There was nowhere Bob Hope wouldn't go to entertain the best audience he ever had—America's WWII service men and women.
By Richard Sassaman
"There is a startling similarity between Bob Hope and Donald Duck," wrote screenwriter and director Frank Tashlin. "Both became immensely popular during World War II. Both were braggers who backed down in a pinch but somehow prevailed."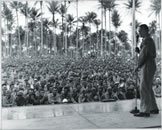 America's greatest military entertainer during World War II (Bob Hope, that is), who couldn't stop entertaining US troops for almost 50 years after the war, was not originally an American. Born Leslie Townes Hope in a London suburb in May 1903, Bob Hope came to Cleveland, Ohio, with his family when he was four years old. A few years after becoming a US citizen in 1920, he was a vaudeville performer appearing under the more masculine name Lester. But Lester becomes Les, and in 1929, perhaps feeling that Les Hope was not exactly inspiring, he changed his name again. "Bob—it seemed more down-to-earth—just like his audience," wrote biographer Lawrence J. Quirk. "Bob Hope it would be."
Hope's five-decade career "covering the bases," as his biographer William Faith describes it—some 60 tours from Korea to Vietnam to the Persian Gulf—began almost by accident. We weren't even at war then. It was early May 1941 when his radio producer, Albert Capstaff, urged him to take The Pepsodent Show out of its Hollywood studio and do a live broadcast from March Field in nearby Riverside.
Hope didn't see the point. Why not just bring the soldiers to the studio? Capstaff told him they numbered in the thousands. He didn't mention his ulterior motive: his own brother was one of the soldiers. In the end, a group that included Hope's mustachioed sidekick Jerry Colonna, announcer Bill Goodwin, and singer Frances Langford, who recently had replaced Judy Garland on the show, made the trip to March Field.
If nothing else, Hope figured, the show would provide welcome publicity for his upcoming summer movie, Caught in the Draft, but he was completely unprepared for what he found: "an audience so ready for laughter, it would make what we did for a living seem like stealing money." He wrote later that "laughs came from simple harebrained foolishness, reluctant heroism, and even blatant cowardice set against a climate of high seriousness."
"One of the aviators here took me for a plane ride this afternoon. I wasn't frightened, but at two thousand feet one of my goose pimples bailed out." (live at March Field, California)
The following week, the Pepsodent bunch was back in the studio after the trip to March Field, but when the impact of that first camp show became obvious, Hope and company began traveling around California in subsequent weeks to visit sailors at the San Diego Naval Station, marines at Camp Roberts north of Paso Robles, and soldiers at Camp Callan in La Jolla. By that time Caught in the Draft had become the most popular Paramount film of 1941. The pattern was set.
Only nine of Hope's 144 radio shows during the war were broadcast from NBC's studio. The others all took place at military bases. Hope would identify the base right away, opening his monologue with "This is Bob (insert location here) Hope."
Sometimes the jokes were accidental. At one naval base, Langford set out to sing "You Go to My Head," unaware that, to sailors, the "head" is the toilet. Almost always, the response was much greater than the material deserved. "The reason for our overwhelming welcome from troops all over the world," Hope decided later, "was that we spelled, more than anything else, 'home.'"
"In America, only the Boy Scouts were prepared." (Don't Shoot, It's Only Me)

A poll published two days before Christmas 1941 in Radio Daily, the newspaper for commercial radio and television stations, confirmed the national appeal of the military broadcasts by naming Hope the top comedian and top entertainer of the year. Such honors didn't mean much, however, coming in the somber weeks after the Japanese surprise attack on Pearl Harbor. Quirk wrote that Hope was irked on Sunday morning, December 7, because This Week magazine, a supplement to the Sunday edition of the Los Angeles Times, had reported his gross income for 1940 ($464,161.78). But the startling news coming over the radio from Hawaii quickly made him forget his irritation.
"I've been offering to kiss every movie star who bought a $500 [war] bond. But I only sold one, and Boris Karloff wants his money back." (live at the Hollywood Canteen)
In the spring of 1942, Hope became master of ceremonies for the Hollywood Victory Caravan, a two-week tour of 12 American cities that was part of a film industry effort that ultimately raised a billion dollars for army and navy relief agencies. The caravan included 50 Hollywood stars, among them James Cagney, Bing Crosby, Olivia de Havilland, Cary Grant, Laurel and Hardy, Groucho Marx, Merle Oberon, and Spencer Tracy. They did skits written by big-name writers George S. Kaufman and Moss Hart and performed songs by popular composers Jerome Kern, Johnny Mercer, and Frank Loesser.
"You heard about the airman who was making his first parachute drop? Well, his first lieutenant told him which cord to pull, and told him that when he hit the ground there would be a station wagon waiting to drive him back to the base. So the airman jumped out of the plane and when he pulled the cord nothing happened, and he said, 'And I bet the station wagon won't be there either.'" (live in Alaska)
By the end of the two weeks, the Hope Gypsies, as Hope called them, were exhausted. But still they set off for 65 more shows at military bases and hospitals. By September the Gypsies, now including guitarist Tony Romano, had arranged their first USO (United Service Organizations) tour and set off to the US Territory of Alaska and the Aleutian Islands. The soldiers there, Hope later wrote, "were the loneliest guys in the world. Also the coldest."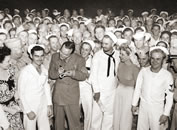 In the summer of 1943, the Gypsies, with Hope's friend and ex-vaudevillian Jack Pepper filling in for Colonna, toured England and Northern Ireland. "The European theater," Hope said, "was a little like vaudeville with foxholes." Actor Burgess Meredith wrote to his future bride Paulette Goddard that "the most wonderful thing about England right now is Bob Hope…. He is tireless and funny, and full of responsibility, too, although he carries it lightly and gaily. There isn't a hospital ward that he hasn't dropped into and given a show; there isn't a small unit anywhere that isn't either talking about his jokes or anticipating them. What a gift laughter is!"
Hope made a cameo appearance in the one-hour 1943 training film Welcome to Britain, starring Meredith, which tried to explain the English people and their customs to newly arriving American GIs. (In the words of one reviewer, the documentary shows that "British coffee is awful, their beer is warm, they have a fetish about tea.") Hope shows up in a scene with a taxi driver, discussing the English monetary system of pounds and shillings.
The Gypsies did their first USO combat zone shows that summer in North Africa, Italy, and Sicily. Palermo offered them both their largest audience—19,000—and a narrow escape with their lives when 100 Nazi Junker JU-88s with a fighter escort dive-bombed the docks, destroying the area around the troupe's hotel a few blocks away. Hope said that returning safely to the States that fall "was something of a letdown. Hollywood was tinsel and make-believe and happy endings. Where we had been was mud and reality and horror."
Along the road to the end of the war, Hope met his heroes Winston Churchill, Jimmy Doolittle, and Dwight Eisenhower, as well as other famous leaders such as General George Patton. Years later he admitted, "I miss the immediacy of feeling you're a part of history, even though you're not. Yes, I miss the wars, probably because I had the best of the excitement and the least of the danger."
"What a beautiful swamp you have here…. It's a top-secret base—even the snakes can't find it. If you wanna hide from your draft board, this is the place to do it." (live at Noemfoor, off New Guinea)
The following summer, 1944, the Gypsies were off again, logging more than 30,000 miles in the South Pacific, giving more than 150 performances on remote backwater islands, places like Eniwetok, Tarawa, Kwajalein, Saipan, and Majuro. Hope called it "Loew's Malaria Circuit" or "the Pineapple Circuit." At one show, the troupe found out that a Japanese soldier had been killed a few hundred yards from the stage.

It didn't take Hope long to figure out how to win an audience of troops. "The essential element of foxhole humor, in Hope's view, is that the GI laughed hardest when the joke was on him," Faith wrote. In Hope's words, "[The GI] can take it. He's laughing off the icy cold, the searing heat, the bugs and the scorpions, his fears and his frustrations." He also believed that the GI's "real enemies, even after war broke out, were never just the Germans or the Japanese. The enemies were boredom, mud, officers, and abstinence. Any joke that touched those nerves was a sure thing."
"There are some cynics who say I never met a war I didn't like. They're the ones who haven't smelled it close up, in the hospital wards…. Politics didn't matter to me. I never saw a 75mm shell wearing a Willkie button." (Don't Shoot, It's Only Me)
In Caught in the Draft, Hope played a movie star who enlists in the army (along with his agent and chauffeur) because he wants to impress the base colonel's daughter (played by Dorothy Lamour). In real life, of course, Hope, unlike stars such as Jimmy Stewart and Clark Gable, did not enlist. Some questioned his courage, carping that he kept appearing onstage in front of soldiers to stay out of the army. (When one GI in the back of a crowd in Tunisia, shortly after the August 1943 invasion of Sicily, yelled "Draft dodger!" at him, Hope quipped, "Don't you know there's a war on? A guy could get hurt.")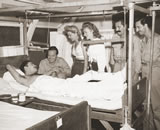 Respected commentators such as combat reporter Ernie Pyle and novelist John Steinbeck disagreed with Hope's critics. In a column for the New York World Telegram on September 16, 1943, Pyle wrote that he had traveled in two different cities with Hope's Gypsies during air raids "and I will testify that they were horrifying raids. It isn't often that a bomb falls so close that you can hear it whistle. But when you can hear a whole stack of them whistle at once, then it's time to get weak all over and start sweating. The Hope troupe can now describe that ghastly sound."
Steinbeck, who had won the Pulitzer Prize in 1939 for The Grapes of Wrath and would win the 1962 Nobel Prize in Literature, spent the second half of 1943 as a war correspondent for the New York Herald Tribune. He wrote a column published on July 26, 1943, that was probably the finest review Hope ever got for his wartime work.
"When the time for recognition of service to the nation in wartime comes to be considered," Steinbeck began, "Bob Hope should be high on the list. This man drives himself and is driven. It is impossible to see how he can do so much, can cover so much ground, can work so hard, and can be so effective. He works month after month at a pace that would kill most people…. And he has been doing this ever since the war started. His energy is boundless."
Near the end of his report Steinbeck wrote, "Probably the most difficult, the most tearing thing of all, is to be funny in a hospital…. Everything that can be done is done, but medicine cannot get at the lonesomeness and the weakness of men who have been strong. And nursing cannot shorten one single endless day in a hospital bed. And Bob Hope and company must come into this quiet, inward, lonesome place, and gently pull the minds outward and catch the interest, and finally bring laughter up out of the black water. There is a job. It hurts many of the men to laugh, hurts the knitting bones, strains at sutured incisions, and yet the laughter is a great medicine."
The last sentence of Steinbeck's dispatch read simply, "There's a man for you—there is really a man."
Time magazine added its approval four days after Pyle's column, putting Hope—with the tagline "First in the Hearts of the Servicemen"—on the cover of its September 20, 1943, issue. The accompanying article, "Hope for Humanity," noted that the comedian had just performed "about 250 camp and hospital shows in eleven weeks."
The article began by citing Jack Benny, Ray Bolger, Al Jolson, Martha Raye, and others. "Never before have the folks who entertain the [troops] been so numerous or so notable; never have they worked so hard, traveled so far, risked so much…," it read. "From the ranks of show business have sprung heroes and even martyrs, but so far only one legend. That legend is Bob Hope."
Copyright 310 Publishing, LLC. All rights reserved.