By Carl Zebrowski
"Over There" was the ultimate rah-rah American war song. It had a march rhythm, a military brass accompaniment, a rousing chorus, and patriotic lyrics. But "Over There" was World War I's song. In 1942, US government propaganda flacks decided World War II needed a theme song of its own.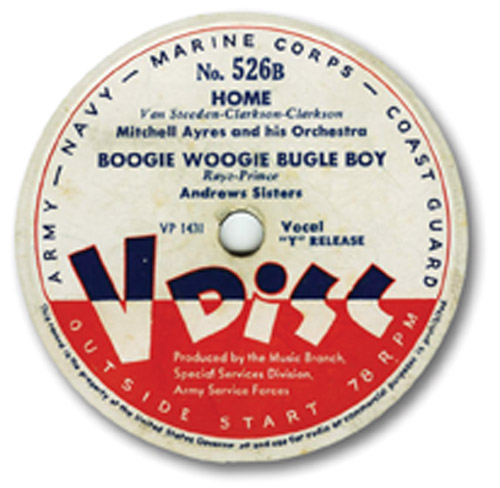 Label for the Andrews Sisters' record Boogie Woogie Bugle Boy (America in WWII collection)It turned out the government was better at managing a war than cajoling songsmiths, and after more than three years of wartime songwriting, World War II still did not have its own "Over There." But one song did turn up that still says "World War II" probably more than any other: "Boogie Woogie Bugle Boy." It didn't have the serious purpose the government sought, but judging from all the jitterbugging it inspired, it did lift morale.
"Boogie Woogie Bugle Boy" is an upbeat ditty about a fictional famous trumpeter from Chicago who gets drafted into the army and becomes his company's bugler. It turns out, however, that he can't play a lick without a band behind him. So a sympathetic captain transfers in some hip players, and from then on, Company B swings into its daily routines.
The Andrews Sisters made the song famous when they performed it in the 1940 Abbott and Costello movie Buck Privates. The tune begins on the silver screen with a solo trumpeter opening "Reveille" jazz style, before a piano enters with a boogie woogie bass vamp. Dressed in military uniforms and sitting on barstools drinking malts, the sisters stand up and start singing their inimitable close harmonies (notes near enough to grab with one hand on a piano). At the Academy Awards the following spring, "Boogie Woogie Bugle Boy" won the Oscar for Best Song.
Born to a Greek immigrant father and Norwegian-American mother who ran a restaurant in Minneapolis, the Andrews Sisters had begun singing together as kids in the 1920s. In 1937, they cut the first record by a female group to sell a million copies, and by 1940 every American knew who they were. After America entered the war in December 1941, the trio traveled all over the states and overseas to perform for GIs, and helped found the Hollywood Canteen to entertain servicemen in or passing through southern California.
By the time they retired from singing professionally, the Andrews Sisters had become the most successful female vocal group in history to that point, recording some 600 tunes that sold 75 million to 100 million records. When the Vocal Group Hall of Fame opened in Sharon, Pennsylvania, in 1998, they were among the original inductees. "Boogie Woogie Bugle Boy" remains their signature song and was voted number 6 of 365 on the 2001 list Songs of the Century.
Copyright 310 Publishing, LLC. All rights reserved.