Actresses of the silver screen inspired the boys overseas by posing for leggy glamour shots that adorned many a barracks wall.
By John Stanchak
Girl-starved Animal is raving about Betty Grable to a bunch of other American prisoners of war in the 1953 Hollywood suspense-comedy Stalag 17. He has just heard that the movie beauty has married big-band leader Harry James. Animal broods. He has nothing left to live for. Musicians always get the girls.


How important could Betty Grable be to a soldier who never met her? With World War II scarcely eight years behind when Stalag 17 came out, the question never even arose. Americans knew that from 1942 to 1945, Betty was everything to Yanks in uniform. She was the girl they were fighting for. Then again, so were Rita Hayworth, Dorothy Lamour, Lana Turner, Veronica Lake, and a bevy of other movie sirens. They were pinup girls, female celebrities whose come-hither looks and terrific figures graced millions of cheap photos given to American GIs free of charge.



With measurements widely reputed to be a perfect 36-24-36 (but really 36-24-35), RKO studio's dancer-actress Betty Grable was the undisputed queen of the pinups. And in an era dominated by the tastes of leg men, she was believed to have the best set of gams. As she said during the war, "There are two reasons why I am successful in show business and I am standing on both of them."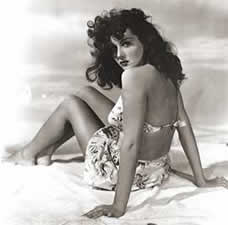 Why did the US government, the American movie industry, and the United Service Organizations cooperate to distribute glossy photographs of Betty Grable and the others to men in uniform? Why weren't troops told to get those pictures of movie beauties off their lockers and walls? It all began with the then-new military term "morale." With a political incorrectness unimaginable today, government, business, and charity all acknowledged that American GIs were virile, mostly working-class males. If a GI needed encouragement in tough times, he wanted it to come from a woman like Grable, who famously said, "I'm strictly an enlisted man's girl." The famous pinup, shot from behind, of her wearing a bathing suit and high heels drove that point home with a sexy over-the-shoulder smile.



Close beside the blonde Grable in popularity was Columbia Pictures' auburn-haired goddess Rita Hayworth. Photographed by Bob Landry for Life magazine in 1941, the picture that became Hayworth's best-known pinup shows her kneeling on a bed in lingerie, with a sweet smile. Landry and Life 's editors initially discarded the shot because it wasn't well-lit. Over the course of the war, five million copies were distributed.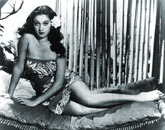 Like Grable, Hayworth broke a lot of servicemen's hearts by getting married, to Hollywood wonder boy Orson Welles in 1943. MGM starlet Ava Gardner did the same, marrying screen favorite Mickey Rooney in 1942. Dark-haired Linda Darnell, movie musical star Ginger Rogers, Viennese import Hedy Lamarr, Warner Brothers Studios' Ann Sheridan, and buxom Jane Russell also married during the war. But marrying didn't kill their appeal to Americans in combat. Sarong-wrapped Dorothy Lamour, a veteran of tropical movie dramas and of Bob Hope and Bing Crosby comedies, was also a wartime bride, but she appreciated her status as a pinup favorite. Her popularity enabled her to raise $300 million on a national War Bond–peddling tour.


This sort of success inspired some less obvious candidates for pinup fame to sit for the camera. Wholesome hoofer Ann Miller, then a tap dancer at Columbia Studios, donned a halter top, lacquered up her lips, and cast a sultry look at the camera for the boys. And in the years before marrying movie cowboy Roy Rogers, RKO contract player Dale Evans sat for a cheesecake shot. At that time marketed as a non-threatening middle-American cutie, this former teenage mother and three-time divorcee's pinup seemed to derail her studio bosses' plot to smother her sexy side.


Not every actress posed with enthusiasm. Diminutive Veronica Lake was popular for playing hard-edged girls in deep trouble. Her trademark was her peek-a-boo hairstyle, featuring locks hanging over one eye. Her popular pinup accentuated her penetrating glance. In later years she said with pride, "I will have one of the cleanest obits of any actress. I never did cheesecake like Ann Sheridan or Betty Grable. I just used my hair." She underscored her disinterest when she said, "I wasn't a sex symbol. I was a sex zombie."
Copyright 310 Publicshing, LLC. All rights reserved