Striking a match, sending a postcard, or even getting dressed, WWII Americans heard the same rallying cry over and over: Remember Pearl Harbor!
By Martin Jacobs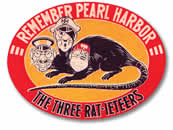 The smoke had scarcely cleared from Pearl Harbor's Battleship Row when America, suddenly at war, dusted herself off and rallied her people with a spirited battle cry: "Remember Pearl Harbor!" This watchword of victory—RPH for short—instantly showed up everywhere: on posters, pins, medals, patches, and every kind of item imaginable. Over four long years of war, RPH items reminded a beleaguered America why it was fighting. Today, they remind us of a time when an entire nation mobilized for a single purpose.
Propaganda badges: Propaganda badges were made of celluloid, about an inch and a half across, and imprinted with anti-Japanese slogans. They were funny, even outlandish, flashing quips such as "Down with the Rising Sun—Let's Not Forget Pearl Harbor" and "Pound 'em for Pearl!" Thousands were produced during the war. Today they are rare but still relatively affordable.
Matchbooks: In a hard-smoking era, the federal government and private businesses circulated millions of matchbooks featuring brightly colored images of airplanes, battleships, sailors and soldiers. One book held matches made to look like menacing Japanese soldiers. Its cover read "Strike 'em Dead—RPH." The backs of the books usually featured patriotic messages reminding Americans to buy defense bonds and stamps.
Cinderellas: Cinderellas were styled after postage stamps and came in various sizes and shapes. Windows all over America were plastered with them. Collectors gave them their name—like Cinderella who wasn't allowed to attend the ball, these decorative stamps are excluded from official stamp-collecting exhibitions. They were typically lithographed on adhesive paper or made into decals, stickers, stamps, or labels. People stuck them on envelopes, stationery, book covers, or postcards. One particularly bold decal was a four-inch circle with a sinister caricature of a Japanese soldier's face and the grim caption "RPH—Keep 'em Dying." A class at US Army Air Forces Basic Flying School at Moffett Fileld, California, co-opted this decal as its coat of arms.
Jewelry: There were more than 500 known varieties of Remember Pearl Harbor jewelry, including pins, brooches, pendants, lockets, necklaces, earrings, and bracelets. Pieces varied in size and quality and were engraved, die-cast, enameled, or emblazoned with the RPH motto. The manufacturer's name was usually stamped on the back.
Posters: Posters were everywhere on the home front, with themes of lurking enemy spies, the importance of buying war bonds, and, of course, remembering Pearl Harbor. Late in the war, in 1944, the 30-by-40-inch poster "Remember Me? I'm Still Fighting You!" depicted a sinister Japanese captain testing the edge of his samurai sword while taunting the viewer. Inset pictures of Pearl Harbor burning reminded workers the Japanese were still lethal. One particularly desirable poster today is a 28-by-40-inch illustration of a US flag shot full of holes and flying at half-mast over Hickam Field, an army airfield that was hit during the attack. Part of the caption, borrowed from President Abraham Lincoln's Gettysburg Address reads, "We here highly resolve that these dead shall not have died in vain… Remember December 7." Another poster shows a blind sailor with a nurse, captioned "He can't Forget Pearl Harbor—Can You?"
Postcards: Postcards started coming out almost immediately after the attack. One popular three-by-five RPH card cast Axis leaders Benito Mussolini, Hirohito, and Adolf Hitler as "Three Dirty Dogs." Another, printed in red, yellow, and black, depicted the same trio as rats. The caption read, "RPH—The Three Rat-ieteers!" One of the funniest postcards ever produced by publisher E.C. Kropp features the RPH slogan and a cartoon of Uncle Sam spanking a Japanese soldier.
Postal covers: From 1941 to the war's end, Americans bought thousands of the graphic envelopes that collectors call postal covers. Often adorned with comical illustrations and RPH captions, and normally three inches high by six to nine inches wide, they were designed by prominent illustrators of the time. Examples included "U.S.S. Lansdowne—Another Ship Commissioned to Bring Revenge to Pearl Harbor," and an envelope bearing a quote from navy commander in chief Admiral Ernest J. King, with a Victory V, armed GIs, flag buntings, and an RPH caption.
Letters: Immediately after the attack, the US military imposed censorship that continued through the war. So, handwritten letters with envelopes dated December 7, 1941, or shortly thereafter are rare, and collectors seek them out. One three-by-six-inch front page of a note pad, marked 12/7/41, reads, "Tonight—at 6:00 p.m., I sit here by lantern inside the telephone exchange. Today will go down in history. I am alone. My men have gone to the fields anywhere to get away. The place has been bombed terribly. We were caught completely by surprise. Our planes were 60% burned." Correspondence Telegrams, cablegrams, and radiograms were issued by Western Union. Some are one of a kind and priceless. Navy Secretary Frank Knox sent one such telegram at 5:05 p.m. on December 9, 1941, to all naval stations: "The enemy has struck a savage treacherous blow. We are at war. There is no time for disputes or delay of any kind. We need more ships and guns. Naval activities will post on all bulletin boards. Inspectors will request maximum publicity by naval contractors." There were few things American families dreaded more during the war than the appearance of a Western Union delivery man at the front door. A message from the War Department in Washington was rarely good news. A telegram sent to Mrs. Frank M. Sphears of North Carolina on December 11, 1941, read, "The Secretary of War desires me to express his deepest regret that your son GM2C Greg Sphears was killed in action in the performance of his duty and service of his country at Pearl Harbor 7 Dec. 41. No information available at present regarding disposition of remains. To prevent possible aid to our enemies do not divulge the name of his ship or station. Please accept our heartfelt sympathy. J.A. Uaio. The Adjutant General."
Newspapers: Awakening on the morning of December 8, Americans and foreigners alike found widely differing journalistic accounts of what had transpired at Pearl Harbor. Many newspaper headlines spread misinformation born of rumor and fear. The banner headline of the December 8, 1941, edition of London's Daily Express read, "Japs attack U.S.A. Paratroops at Pearl Harbor." In Tokyo, the December 7, 1941, edition of the Osaka Mainichi shouted "Nippon at War With USA. 100 Planes Shot Down!" The paper collectors most desire is the December 7, 1941, edition of the Honolulu Star-Bulletin, trumpeting the first wave of the aerial onslaught: "War! Oahu Bombed by Japanese Planes. 6 Known Dead. 21 Injured."
Sheet music: Johnny Noble was among Hawaii's best-known musicians and songwriters. Following the Pearl Harbor strike, he wrote the song "RPH," which was released in early 1942. Don Reid and Sammy Kaye penned and composed a tune by the same name for release in late 1941. Collectors are attracted to the strong graphics on the printed song sheets for these and other tunes.
Hawaii invasion currency: By August 1942, the federal government had withdrawn all regular US currency in Hawaii and replaced it with specially printed notes with "HAWAII" overprinted in large letters on the back and vertically at each end on the front. If the Japanese invaded Hawaii and seized US money, the bills would be permanently identifiable as having been captured by the enemy, and would not be honored by the United States.
Gum cards: Gum cards were for the kids. Gum Incorporated of Philadelphia, with its Blong gum, put out hundreds of different battle scenes on two-by-three-inch cards. Candyland Company of Brooklyn issued an eight-card photographic series called Heroes of Pearl Harbor.
Arcade games: There were several kinds of penny arcade games with RPH themes seemingly tailored to give children nightmares. Games with graphic illustrations of evil Japanese dealing death and destruction on Pearl Harbor featured planes that flew, swivel guns that shot, turret guns that turned, firing artillery, exploding bombs—all with realistic sound effects. There were gumball-firing machine guns that shot down Japanese planes. Arcade proceeds from these games were usually donated to the war effort. The games are extremely difficult to find today.
Toys and playthings: Major toy suppliers FAO Schwarz, Milton Bradley, and Parker Brothers manufactured mechanical and electrical toys, puzzles, painting sets, toy soldiers, pistols, rifles, model airplanes and ships, toy trucks, board games, card games, punchboards, banks, and paper dolls with RPH themes. Many were made of materials deemed inessential to the war effort, such as wood and plastic. The RPH slogan was immortalized on every item imaginable, including the Par-A-Shoot Target Game by Baldwin and the Trap the Jap in Tokyo marble game by Modern Novelties.
These items are just a small sampling of what was made and sold during the war. A vast number of other RPH collectibles were available, including pennants and banners, figurines and statues, license plates, drinking glasses, scarves, handkerchiefs, and neckties. Many are still around, reminders of the sacrifices America made during World War II and cherished treasures of our nation's heritage.
Image credits: Both from the Martin Jacobs collection
.
Copyright 310 Publishing, LLC. All rights reserved.