Doris Miller was a navy cook. Because he was black, the navy didn't allow him to be much else in those days. He certainly wasn't allowed in a combat role. But fate doesn't follow rules.
Miller, known to most people as Dorie, had enlisted in the navy as a mess attendant in 1939 and earned promotion to cook, third class. On December 7, 1941, the 22-year-old Texan was collecting laundry aboard the battleship West Virginia, moored in Pearl Harbor, when Japanese planes suddenly roared overhead. Several torpedoes and two bombs hit the ship. The deck collapsed and fire and smoke were everywhere.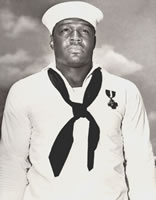 Wounded were everywhere, too, and Miller was ordered to help move them, including Captain Mervyn Bennion, who died soon afterward. After the fallen were evacuated, Miller took it upon himself to join in the defense of the harbor. He found an unmanned but loaded .50-caliber Browning anti-aircraft gun, and though he'd had no gunnery training, began firing it overhead at the buzzing planes. He eventually ran out of ammunition and was ordered to abandon the sinking ship.
Miller's heroics during the Pearl Harbor attack were initially forgotten—until the press got wind of the story. On May 27, 1942, Admiral Chester Nimitz, commander of the US Pacific Fleet, personally pinned Miller with the Navy Cross, the navy's second-highest honor. Miller was the first black sailor ever to earn the award.
In the spring of 1943, Miller found himself serving as a messmate aboard the brand-new aircraft carrier Liscome Bay. The carrier was in the central Pacific on November 24, sending planes to attack Japanese positions in the Gilbert Islands, when it was sunk by a Japanese submarine. Miller's body was never found, and a year later, he was declared dead.
In June 1973, the navy gave this hero of Pearl Harbor another of its rarest honors: it named a new ship the USS Miller.
Photo credit: Courtesy of the Arizona Memorial Museum Association
Copyright 310 Publishing, LLC. All rights reserved.