Did the sailor and the nurse in the famous V-J Day kiss scene know each other? No, they didn't. Do we know who they are today? Well, maybe…
by Tom Huntington

Everyone knows the photo. It has become an iconic image of the 20th century. Taken in New York City's Times Square on August 14, 1945, it shows an exuberant sailor kissing a nurse. Onlookers grin in the background. The nurse looks surprised as the sailor bends her backwards, her right foot raised off the ground, her left arm behind her. The image manages to capture the sense of relief, exhilaration, and unbridled joy brought by the news that Japan had surrendered and the most terrible war in history was finally over.
Since the picture appeared on the cover of the August 27, 1945, issue of Life, it has become the magazine's most reproduced image. But the photographer—Alfred Eisenstaedt, one of Life's finest—took no notes that day, and the identities of the sailor and nurse remain a mystery. Over the years, many men have claimed to be the sailor, but Life has not endorsed any of their claims. One of those men, George Mendonsa, is so certain of his case that he has enlisted the latest in facial identification technology to support it.
Mendonsa, now 82, was born in Rhode Island to Portuguese immigrants. Father and sons were all fishermen. On December 7, 1941, George Mendonsa was walking out of a Newport restaurant when he heard shouting in the street: the Japanese had bombed Pearl Harbor. As a fisherman, Mendonsa had a deferment from the United States' first-ever peacetime military draft, which had begun earlier in the year. But with the nation now at war, he enlisted in the navy after the 1942 fishing season. Mendonsa completed quartermaster training and was assigned to USS The Sullivans, a new destroyer named after the five Sullivan brothers of Waterloo, Iowa, who died in November 1942 when a Japanese submarine sank their cruiser near Guadalcanal.
The Sullivans was commissioned in the fall of 1943 and headed west across the Pacific, where she was soon in the thick of fighting. "In my battle station," Mendonsa says, "I was the helmsman, so I was up on the bridge all the time." He witnessed kamikazes hitting the carrier Bunker Hill on May 11, 1945. "The Bunker Hill, she was all aflame," he remembers. "There were thousands and thousands of gallons of airplane fuel burning on the flight deck." Flames poured down the ship's side into the sea, and sailors jumped overboard to escape the inferno. The Sullivans picked up survivors.
Later, The Sullivans took the wounded to a hospital ship. "I took notice of the nurses there taking care of the wounded as we sent them across, and that always stuck in the back of my mind, watching those nurses," Mendonsa says. "And then, after all this, we were ordered back to the states, June 20, 1945." The United States was gearing up to invade Japan when Mendonsa reached San Francisco with 30 days of leave plus 8 travel days.
Mendonsa spent his leave at home, helping his father fish. His sister's in-laws came to visit from Long Island and brought along their niece, a single blonde named Rita Petry. "And the niece was a good-looking babe, 21 years old, and being a gentleman, I was showing her around Newport the week that they were here," Mendonsa says. When the in-laws returned home, Petry invited Mendonsa to spend the last couple of days of his leave in New York and fly back to the west coast on August 15.
On the last day of his leave, the 14th, Mendonsa took Petry to a movie at Radio City Music Hall. A loud pounding on the doors stopped the film, and someone announced that the Japanese had surrendered. The war was over. "Radio City emptied out, and the blond and I went down into Times Square," Mendonsa says. "Times Square was wild."
It was indeed. Around 7:00 that evening, the electronic news scroll on the Times Building relayed the official word of the surrender. The reaction was overwhelming. "The victory roar that greeted the announcement beat upon the eardrums: until it numbed the senses," reported the New York Times. "For 20 minutes, wave after wave of that joyous roar surged forth." An estimated 2 million people poured into Times Square that night, screaming, weeping, cheering, honking horns—and kissing.
Eisenstaedt's unidentified sailor was not the only person to celebrate with his lips. "In Times Square and in near-by bars kissing became a popular and a public pastime," said the New York Times. "One girl kissed an Army man and just to show her impartiality as between the services she promptly found a sailor and gave him a similar salute. The initiative was by no means confined to the girls. One sailor firmly took hold of a girl, and as he gave; her a longer-than-movie kiss, a shipmate jokingly fanned him."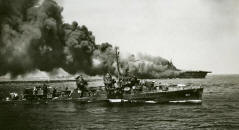 Mendonsa and Petry were in the middle of it all. As they made their way to the subway station, they ducked into a bar that was packed with other celebrants. "I popped a few drinks," Mendonsa says, then they continued down Broadway. "I remember seeing this nurse approaching on my left. I didn't think about it, probably the few drinks, the excitement of the war ending. Anyway, I grabbed the nurse. I thought nothing of it. Of course a lot of people say, how come you grabbed a nurse when you were with a date? Well, I honestly believe that I had a soft spot for nurses because of the aircraft carrier Bunker Hill. I instinctively just grabbed her and I kissed her, and I honestly believe that if that girl did not have a nurse's uniform on, I never would have grabbed her." (Mendonsa's date obviously forgave him for kissing the nurse. They later wed and have been married for 59 years.)
Meanwhile, Eisenstaedt had grabbed his camera and gone out looking for photo opportunities in Manhattan. A pioneer in the field of photojournalism, Eisenstaedt had been born in 1898 in a region of West Prussia that is now part of Poland. His family moved to Berlin when he was a boy. At age 17, he was drafted into the German army to fight in World War I and returned home with shrapnel in his knees. After the war, he began a career as a photographer. A short, shy man who said he lost all fear once he got a camera in his hands, Eisenstaedt parlayed his talent into a thriving career, becoming a full-time photographer at age 31. One of his subjects was the first meeting between Adolf Hitler and Benito Mussolini, in Italy in 1933. Uneasy about the rise of fascism that these men represented and lured by professional opportunities in the United States, Eisenstaedt crossed the Atlantic in 1935.
In New York City around that time, Time magazine founder and publisher Henry R. Luce was starting up a "picture magazine" known then only as "Project X." Luce hired Eisenstaedt as one of the would-be publication's first photographers. "Eisie showed that the camera could deal with an entire subject—whether the subject was a man, a maker of history, or whether it was a social phenomenon," Luce later wrote. After six months of preparation and marketing tests, Life magazine premiered on November 23, 1936.
Over the next decade, Eisenstaedt photographed movie stars and kings, statesmen and soldiers, sharecroppers and socialites for Life. He would continue to publish photos in the magazine throughout his life. "Most important is the art of seeing a good picture before one releases the shutter," he said. Typical of his work was a series of photographs he took in New York's Pennsylvania Station in 1944, capturing the tearful farewells between soldiers and their loved ones as the GIs headed off to war.
Then came his most famous shot. "In Times Square on V-J Day I saw a sailor running along the street grabbing any and every girl in sight," he recalled. "Whether she was a grandmother, stout, thin, old, didn't make any difference. I was running ahead of him with my Leica looking back over my shoulder. But none of the pictures that were possible pleased me. Then suddenly, in a flash, I saw something white being grabbed. I turned around and clicked the moment the sailor kissed the nurse." Eisenstaedt snapped six quick pictures. The next morning, Eisenstaedt said, the photo editor at Life said to him, "What a great picture you have." Eisenstaedt had to ask which one.
George Mendonsa says he did not know of the photo until about 1980, when a friend called him on the phone. "He said, 'Where the hell was you when the war ended?' I said, 'I was in New York the moment it ended.' And he said, 'I know you was, because I got a picture here of a sailor kissing a nurse, and I know it's you.' Of course I knew nothing about the picture. I said, 'You got to be kidding me.' He said, 'No, I know it's you.' So he brought the Life is me.'''
Around that time, Life put out a call for the sailor and the nurse in the photo to come forward. Several men and women did. Among them was Mendonsa, who visited the magazine's offices and was photographed with the woman he identified as the nurse. Eisenstaedt thought the nurse was a woman from California named Edith Shain, but Mendonsa selected Greta Friedman of Frederick, Maryland, the only woman he believed was the correct height. Freidman conceded that other women had been kissed by sailors in Times Square, but believed she was the one in Eisenstaedt's photo. "I used a comb in my hair," she said. "I had a purse like the one in the nurse's hand. I remember being kissed by a sailor, right on Broadway." She had not been a nurse, however, but a dental assistant.
Still, Life remained unwilling to sign off on any claims, and Mendonsa says he was upset when he later saw an ad in the magazine selling prints of the photo signed by Eisenstaedt for $16,000. He hired a lawyer and got Life to give him copies of all six photos Eisenstaedt had taken that day. He took the prints to Richard Benson, a professor of photography and dean of art at Yale University. Benson thought the resemblance between the sailor and Mendonsa was clear, especially since one of the unpublished photos shows a wen (a benign cyst) on the sailor's arm that matched one on Mendonsa's. "It is therefore my opinion," Benson wrote, "based upon a reasonable degree of certainty, that George Mendonsa is the sailor in Mr. Eisenstaedt's famous photograph."
Mendonsa's next-door neighbor wanted to do something to aid the claim. A retired destroyer captain who had taken a civilian job at the Naval War College in Newport, Jerry O'Donnell wondered if modern three-dimensional facial-recognition technology might support Mendonsa. He and some colleagues contacted Baback Moghaddam at the Mitsubishi Electric Research Lab in Cambridge, Massachusetts, a facility that is developing techniques for identifying everyone from terrorists to kidnap victims. Moghaddam agreed to help but said that, for legal reasons, he could not issue a finding one way or another.
Mendonsa sat beneath a special dome in the Mitsubishi lab with 150 custom-made lights and 16 digital cameras. The cameras captured his face and head from all angles i under various lighting conditions. Using those three-dimensional images and photographs of Mendonsa from the 1940s, Moghaddam and his team took some 60 years off Mendonsa, lifted a section from the resulting facial image, and inserted it into Eisenstaedt's photos. They did the same thing with Rita Mendonsa, who can be seen over her future husband's shoulder in one of the three unpublished photos of the scene Eisenstaedt snapped. "Do I think it was a good fit?" asks Moghaddam. "Yes, it was a very good fit. Can I 'make an official statement? No, I can't."
Eisenstaedt died in 1995 fully aware that he had created something memorable in Times Square on August 14, 1945. "People tell me that when I am in heaven they will remember the picture," he once said. George Mendonsa also wants to be remembered, for what he believes is his own little part of American history. "It's something I did, and here it is 60 years afterwards, and it's still known as a symbol of the end of World War II," he says. "And I did it, and I want that."
Bottom photo: George Mendonsa, who claims to be the sailor who planted the famous kiss, served as helmsman on The Sullivans (foreground) when it helped rescue the crew of the burning and sinking Bunker Hill (background) after a kamikaze attack on May 11, 1945. NATIONAL ARCHIVES photo
Copyright 310 Publishing, LLC. All rights reserved.