By Arnold T. Blumberg
War—especially an all-out conflict like the Second World War—does funny things to democracy. In WWII America, the government pointed its propaganda not only at the enemy, but at its own people through the Office of War Information (whose logo, above, proclaims "Truth is our strength").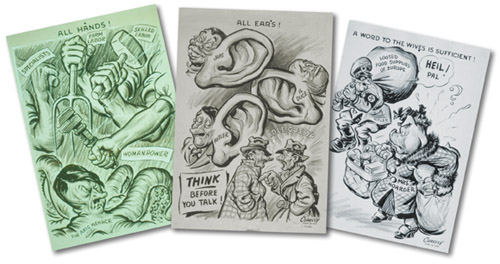 Assorted US government propaganda cartoons (Geppi's Entertainment Museum, Baltimore, Maryland)A newspaperman—Elmer Davis—ran the OWI, and savvy writers joined the nation's foremost graphic artists to create snappy posters, inspiring press releases, and heartwarming photos aimed at influencing Americans' behavior. The message was constant: be frugal, avoid gossip, work harder, make sacrifices, and stay upbeat about where things are heading.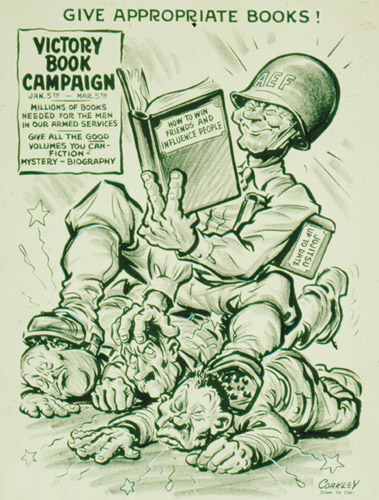 One of many cartoons LeBaron Coakley drew for the Office of War Information. (National Archives)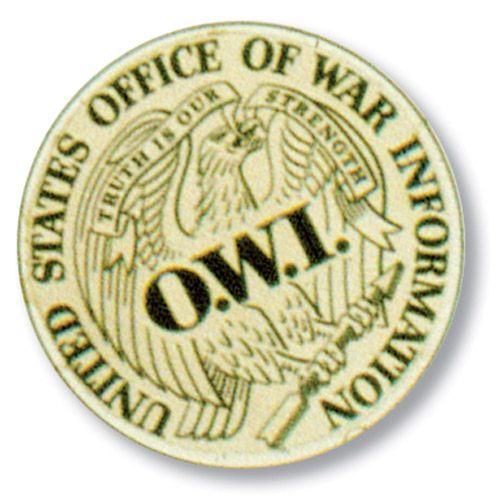 The Office of War Information logo. (National Archives)Cartoons were an important component of the OWI's domestic propaganda blitz. Introducing a catalog of political cartoons for use by newspapers, OWI News Bureau chief George Lyon told editors, "Each piece of art is planned to help the drive for salvage, the fight to conserve food, the program to understand our allies or one of the other campaigns that back up our fighting men." Then, in the spirit of wartime belt-tightening, he added, "Ask for only those [cartoons] you can and will use to help shorten the war."
Cartoonist LeBaron Coakley, who drew editorial cartoons for the Washington Post and Richmond Times-Dispatch, created a large number of cartoons for the OWI, including the ones seen here. His panels reflected the same pull-together, can-do spirit that animated all of the OWI's materials.
But Coakley was controversial; he had a great deal of open empathy for the American labor movement. Ultimately, he represented precisely what Republicans feared about the OWI—not that it was propaganda, but that it was inoculating Americans with the spirit and vision of the Democrats. By 1943, repeated partisan battles over the OWI in Congress led not to agreement, but to a reduced budget for the domestic propaganda agency.