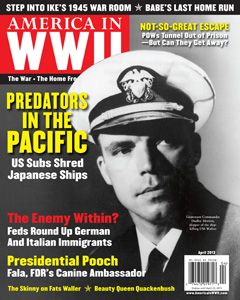 Order a copy of this issue
Features
Predators in the Pacific
US sub skippers were overcautious at the war's start, and their torpedoes were junk. Three years later, they had taken down half of Japanese shipping. By Drew Ames

US Sub Attacks a Japanese Ship
A United News newsreel features rare film of a US sub on the hunt.


The Not-So-Great Escape
Long before it became a movie, the so-called Great Escape was 76 real POWs tunneling out of Stalag Luft III–and Germans executing 50 of them. By Tom Huntington
Trailer for 1963's Great Escape
Enemies in Our Midst?
As GIs battled Nazi and Fascist forces overseas, the US government put 15,000 German and Italian immigrants in prison to keep an eye on them. By Melissa Amateis Marsh
Alpha Dog
Every morning, FDR received a breakfast tray with eggs and toast–and a treat for his must trusted and faithful friend, America's most highly placed canine.
FDR's Fala Speech
The president offers a tongue-in-cheek defense of his dog against attacks by his political foes.

Departments
Kilroy Was Here
A note from our editor: Read Like My Dad
V-Mail
Letters from our readers
Home Front
Babe's Last Blast
Web Extra: From Our Articles Archive
Play Ball!
There was a day when "America's national pastime" was more than just a marketing slogan. During World War II, "the thinking man's game" was the game. By Carl Zebrowski
Pinup
Wanda McKay
The Funnies
Jungle Jim
Flashbacks
Print ads from the war years
I Was There
Unsung Sailor
Landings
War Stories
Readers' memories of the war
Books and Media
Our take on the latest releases
Theater of War
Slaughter-House Five
78 RPM
Fats Waller
Ain't Misbehavin'
Fats performs his classic in the 1943 film Stormy Weather.

WWII Events
A calendar of present-day happenings
GIs
Airman Down