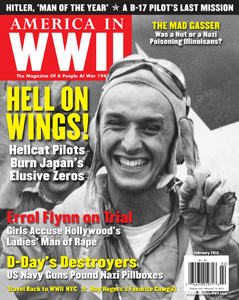 Order a copy of this issue
Features
Hell on Wings
A sudden vertical climb was all it took for a Japanese Zero to slip a pursuing American fighter–until the fast, nimble, and nasty Grumman Hellcat came along. By Brian John Murphy
The Mad Gasser
Temporary paralysis, tremors, nausea, burning skin… Was some Axis operative or local lunatic attacking little Mattoon, Illinois, with poison gas? By Chuck Lyons
D-Day at 900 Yards
As GIs splashed ashore under fire at Omaha Beach, artillerymen aboard the Carmick and other US destroyers took out German gun nests to help clear the way. By Michael Edwards
Web Extra: Getting Ready for the Landings
Follow American fighting men as they prepare for and launch the great Normandy Invasion of December 7, 1944.
Scandal in Hollywood
Movie idol Errol Flynn had a way with the ladies. But when two teenage girls said he had his way with them, the news bumped the war off page one. By John E. Stanchak
Web Extra: Hollywood's Kinder, Gentler Side
There was nowhere Bob Hope wouldn't go to entertain the best audience he ever had—America's WWII service men and women.
Departments
Kilroy Was Here
A note from our editor: "A Thousand Words"
V-Mail
Letters from our readers
Home Front
A WWII Who's Who
Pinup
Dale Evans
Debuting in an uncredited role in 1942, Evans does most of the talking here—to Ann Rutherford, the Westerns star who played Scarlet O'Hara's sister in Gone with the Wind, and who died in June 2012.
The Funnies
Superfanboy
Flashbacks
Print ads from the war years
I Was There
Miss Victory
Landings
Gotham and the Good War
War Stories
Readers' memories of the war
Books and Media
Our take on the latest releases
Theater of War
Mister Roberts
78 RPM
"That Old Black Magic"
WWII Events
A calendar of present-day happenings
GIs
The Final Mission