After surviving the Pearl Harbor raid unscathed, US aircraft carriers lead the counterattack against the Japanese. Things went well. But not everything.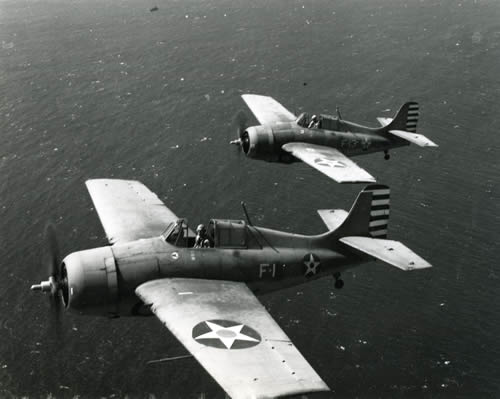 Admiral Isoroku Yamamoto had famously warned that the attack on Pearl Harbor would awaken a sleeping giant. By the time of this photo, the giant, though rattled and outnumbered, was fully awake. Flying the aircraft in the rear here is Lieutenant Edward O'Hare, who shot down five Japanese planes in six minutes about 500 miles from Rabaul on February 20, 1942. He received the Medal of Honor and was deemed the United States' first WWII ace.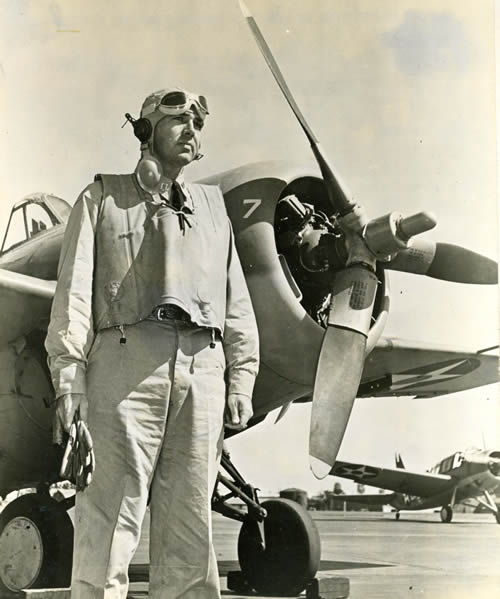 Edward O'Hare stands in front of the Grumman Wildcat he flew while downing five Japanese planes in February 1942. He would be lost in combat on November 26, 1943, and declared dead a year later. Chicago's O'Hare International Airport was named in his honor.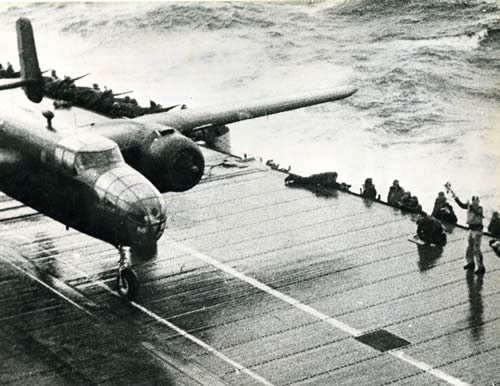 In April 1942 an US Army B-25 awaits takeoff on the deck of the USS Hornet (CV-8) before leaving for the first US bombing of Japan: the Doolittle Raid on Tokyo.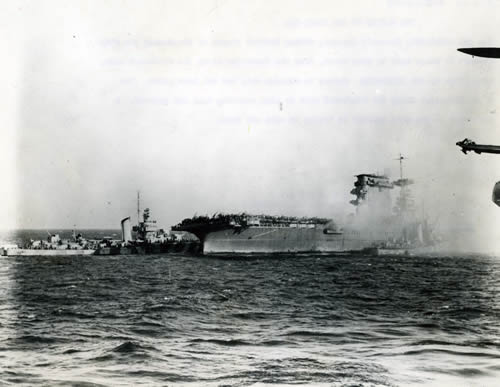 In May 1942 the US aircraft carrier Lexington was hit during the Battle of the Coral Sea. The effort is underway here to extinguish fires on her starboard side (to the right).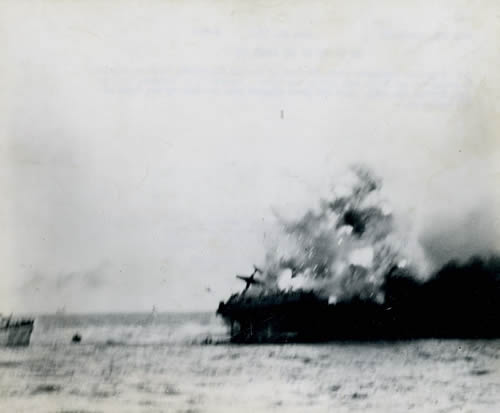 An explosion aboard the Lexington has assured the carrier's demise in the Coral Sea. Captain F.C. Sherman had stayed aboard during resuce efforts and by this point was leaving the ship. He survived. The aircraft seen mid-air has just been thrown from the deck by the force of the blast.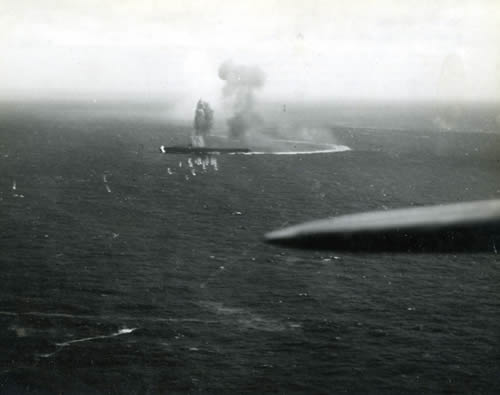 The Japanese carrier Shoho was another casualty of the Battle of the Coral Sea.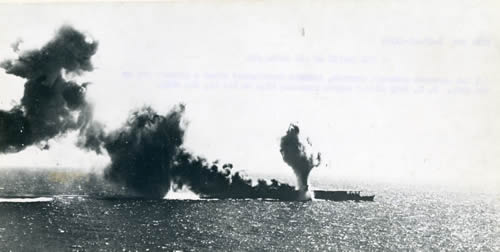 US Navy dive-bombers scored three hits on the Japanese carrier Shokaku on the morning of May 8, leaving the ship burning and badly damaged.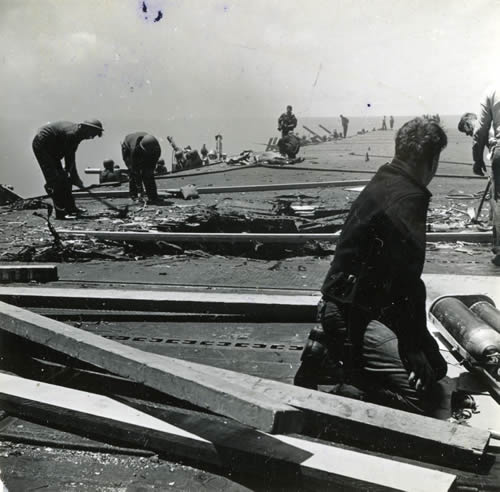 TheYorktown remained in action on May 8 even after a 500-pound bomb slammed through the flight deck and exploded four decks down.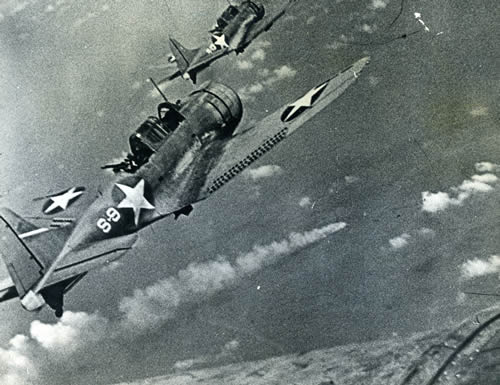 During the June 4–6, 1942, Battle of Midway, Navy SBD Dauntlesses join the attack on the Japanese fleet. In this still from motion-picture film, a burning Japanese ship is the source of the column of smoke.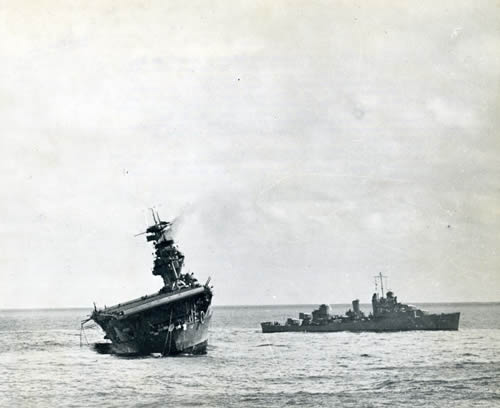 Struck twice by Japanese submarine torpedoes on June 6, the 19,000-ton-displacing USS Yorktown (CV-5) lists heavily to her port side. She capsized and sank the following day.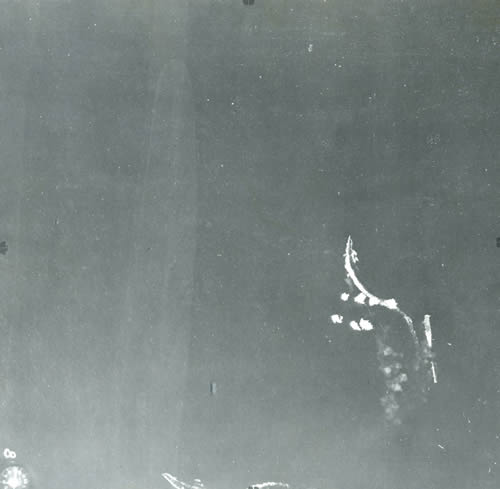 What mayhem looks like from 11,000 feet. US aircraft bombing the Japanese light carrier Ryujo on August 24, 1942, during the Battle of the Eastern Solomons. Admiral Isoroku Yamamoto had set a trap for aircraft from the USS Enterprise and Saratoga. But American planes chopped the enemy carrier to pieces without losing a single aircraft.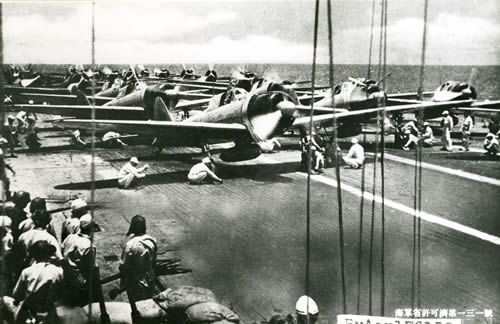 By October 1942, the Pacific Fleet and its aircraft carriers were firmly in control in the Pacific. Here, a captured photo shows Zeros on the deck of a Japanese carrier, probably the Shokaku, before the October 12 Battle of Santa Cruz.