By Michael Momose
By the time World War II began, warfare had developed into its more modern form, with efficient, highly mechanized weapons and machines, previously unseen, appearing on the battlefield, on the oceans, and in the air.
Nonetheless, some facets of war stayed much as they were in ancient times. One legacy of the past that never faded was the presence of animals among the fighting men.
Some animals were combatants, helping their masters spot enemies, delivering messages and orders under fire, locating the wounded, or guarding against infiltrators and saboteurs. But other animals played an equally important if more peaceful role—the role of mascot. Part symbol of a unit's pride, part comic relief, and 100 percent friend, these mascots (taken from more species than you might expect) were essentially the pets of military ground and air units and naval crews.
Soldiers, sailors, airmen, and marines whose units were lucky enough to belong to units with mascots valued the animals for the companionship (and if you asked some, the luck) that they offered. Here are several WWII mascots who served with America's servicemen. ♦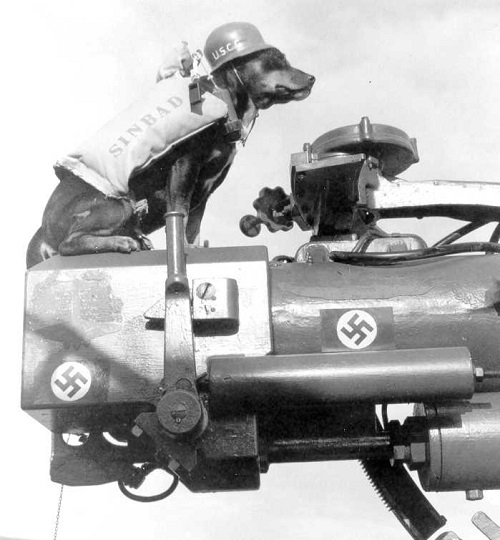 SINBAD — Sinbad is seen here at his battle station aboard the USCGC Campbell. He was picked up by a crewman prior to World War II, and quickly became a favorite. Sinbad served through combat with the Germans and the Japanese, and has come to be known as the Coast Guard's most famous mascot. US COAST GUARD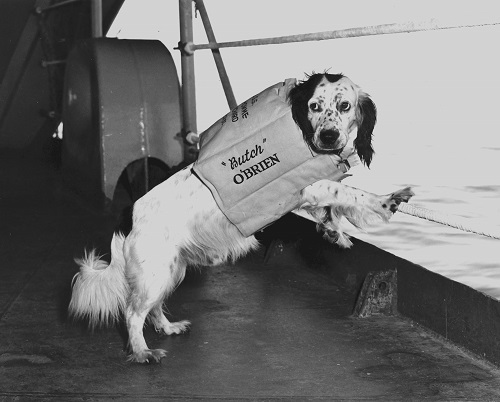 BUTCH O'BRIEN — Aboard the Essex-class aircraft carrier USS Bon Homme Richard (CV-31), Butch O'Brien the cocker spaniel stands ready for action. This photograph was taken during an abandon-ship drill in the Sea of Japan; Butch was equipped with a specially fitted life preserver, complete with his name on the side. US MARINE CORPS HISTORY DIVISION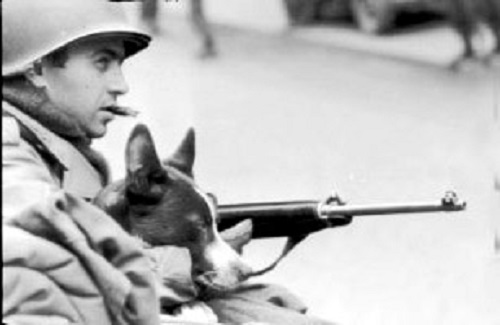 LITTLE JOE — Little Joe, the mascot of the Army's 26th Division, peers out next to a GI's rifle on March 21, 1945, in Ottweiler, Germany. NATIONAL ARCHIVES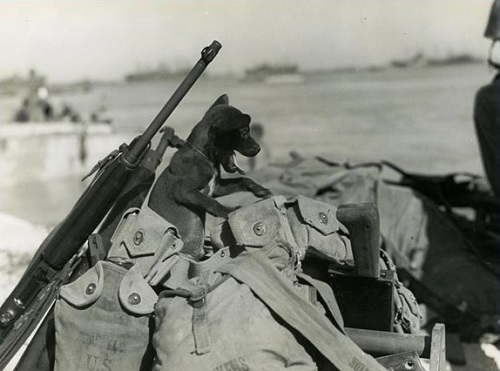 NIPPY — Nippy was left in Saipan by fleeing Japanese troops in 1944. The men of a US Coast Guard landing party promptly adopted him as their new mascot. US NAVY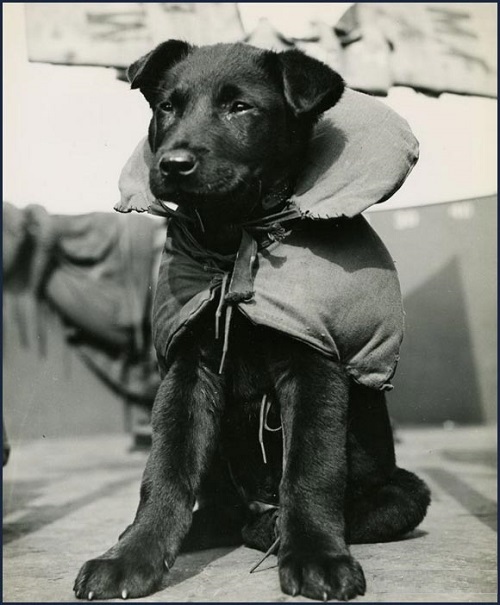 BLACKOUT — Another coast guard mascot, Blackout, is seen here aboard an LCI (landing craft, infantry) in 1944, wearing his custom-made life jacket. Blackout had three battle stars on his service ribbon—from Sicily, Italy, and Normandy. US NAVY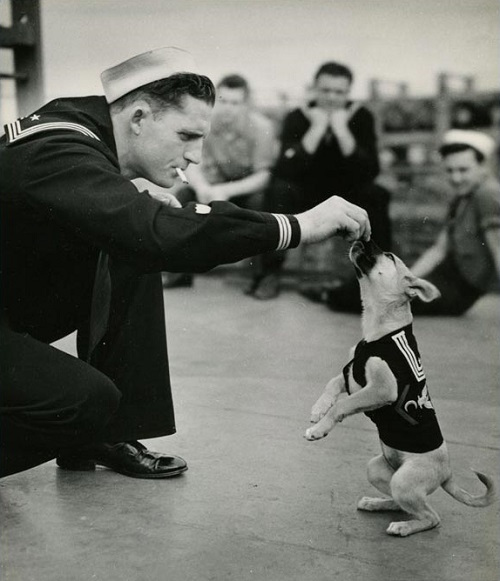 SALTY — Salty shows off some tricks aboard a destroyer escort in an unnamed European port in 1943. Salty wore the rating insignia of a ship's cook, third class. Salty is about to go on shore leave with some of the human crewmen. US NAVY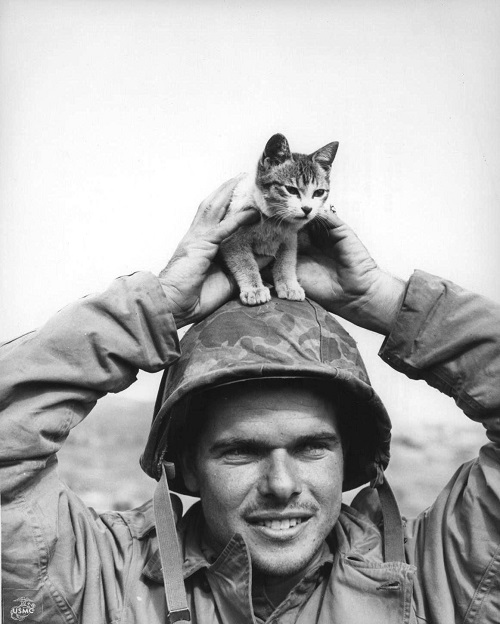 THE CAT — Corporal Edward Burckhardt of the US Marine Corps lifts a kitten destined to be a pet or mascot onto the top of his helmet. He found the kitten on Iwo Jima in 1945, at the base of Mount Suribachi. NATIONAL ARCHIVES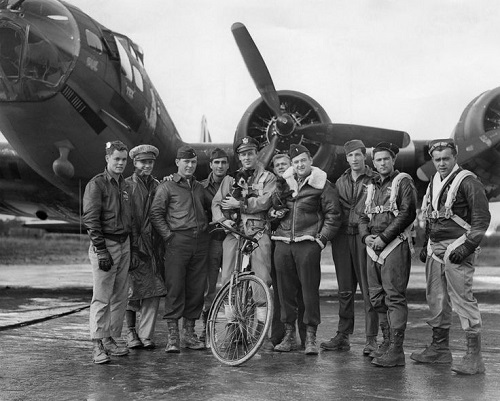 SCRAPPY & JOE — In this picture from 1943, the crew of a Flying Fortress from the 390th Bombardment Group pose with their two mascots: Scrappy the dog and a monkey named Joe. NATIONAL ARCHIVES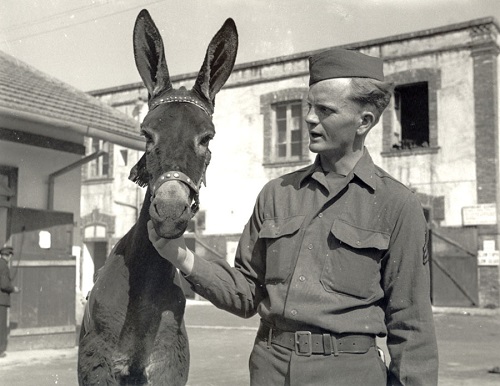 EDDA — Sergeant Richard Wallen of the US Army stands with his pet donkey in Italy in 1944. The donkey was named Edda, after the daughter of Italian fascist dictator Benito Mussolini. NATIONAL ARCHIVES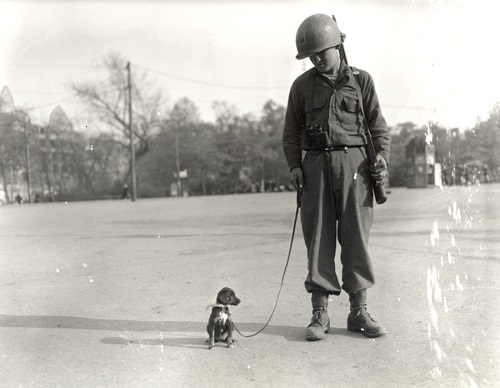 LIEPZIG — Private First Class Raymond Gasiorowski takes a walk with his company's pet puppy, Leipzig, in the town where the little dog was found: Leipzig, Germany. This picture is from April 19, 1945. NATIONAL ARCHIVES
---