America, 1941–1945.
There was a war on. Times were tough. But life was good.
Be there!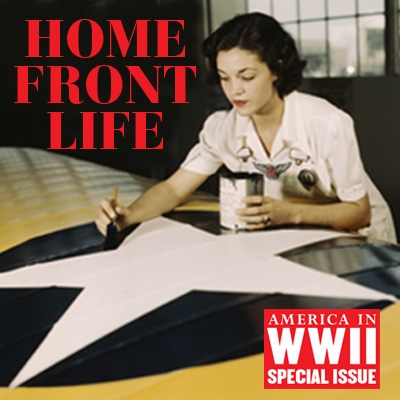 Take our 100-page guided tour of 1940s wartime life, in this very special edition from the editors of America in WWII magazine.
You'll find lavishly illustrated articles and photo essays on what it was like to live, work, and grow up on the American home front. Join the Americans of 1941–1945 through coverage including:
• scrap drives • war bonds • wartime cooking • Civil Defense • women war workers • Victory Gardens • Blue Star and Gold Star banners • war posters • Civil Air Patrol • making do with less • ration stamps • newsreels • troop trains • margarine • radio shows • blackout shades • swing dancing • V for Victory memorabilia • going to the movies • news of the day • and more!
Order HOME FRONT LIFE today for just $9.99 (includes postage & handling)! For delivery outside the U.S. add $6 per copy. Pennsylvania residents add 6% sales tax. Allow 4-6 weeks for delivery.