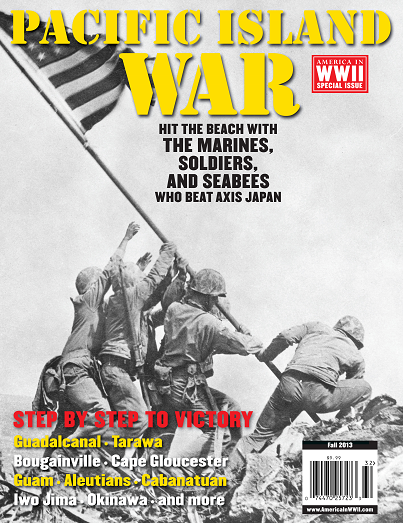 Island-hop to victory in the Pacific war
Follow America's soldiers and marines to war-torn island beaches, jungles, and volcanoes in PACIFIC ISLAND WAR, a new special issue from AMERICA IN WWII.
Gain new appreciation for the true cost of victory in World War II. Watch our boys in uniform battle fierce, often merciless foes—enemies who would rather kill themselves than surrender.
100 pages • battle action photos • combat memories • artifacts • battle maps • soldiers & marines in the field • fierce Japanese foes • flamethrowers • night battles • real American heroes • GUADALCANAL • TARAWA & MAKIN • BOUGAINVILLE • CAPE GLOUCESTER • ALEUTIANS • GUAM • PHILIPPINES • IWO JIMA • OKINAWA • and much more!
Order PACIFIC ISLAND WAR delivered to your home for just $9.99 (price includes postage & handling for US delivery).
Pennsylvania residents add 6% sales tax. Please allow up to 4 weeks for delivery. Delivery outside the U.S. $6 additional per copy.