December 7, 1941
A Date Which Will Live in Infamy
The Attack on Pearl Harbor • Eyewitness Accounts • Expert Analysis • Amazing Photos
Find it all in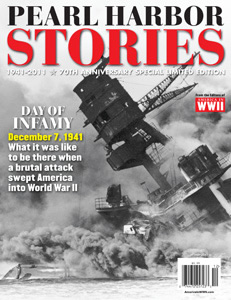 Witness the attack that thrust America into World War II. PEARL HARBOR STORIES puts you on Hawaii's Oahu Island on December 7, 1941. Immerse yourself in 100 pages of vivid narrative, expert analysis, eyewitness stories, and amazing photos. PLUS: Pearl Harbor myths; Pearl Harbor in books and movies; Japanese mini-subs and torpedoes; heroes; Pearl Harbor memorabilia; and advice on visiting Pearl Harbor today.
SPECIAL 70th ANNIVERSARY LIMITED EDITION from the editors of AMERICA IN WWII magazine!
Inside you'll find:
• articles and reflections by the chief historian of the WWII Valor in the Pacific National Monument at Pearl Harbor
• Day of Infamy: feature coverage of the attack on Pearl Harbor
• maps of the action
• eyewitness accounts
• a casualty map and listing of those who died in the attack
• Japan's blitz throughout the Pacific
• Japan's mini-sub attack in the harbor
• killer torpedoes: the air-dropped ship-killers of December 7th
• photos and paintings of the attack
• American reaction in the first 24 hours
• success or failure? Japanese assessments of the raid
• how the US Navy resurrected its sunken Pearl Harbor and sent it to war
• "Remember Pearl Harbor" wartime memorabilia
• top 10 Pearl Harbor books
• top 10 Pearl Harbor films
• visiting Pearl Harbor today
• and more!
Keep the memory alive; send for your copy of PEARL HARBOR STORIES today, just $9.99 per copy.
[This issue is sold out.]
Or send your order with payment (check or money order) to:
America in WWII Specials, 4711 Queen Ave., Suite 202, Harrisburg, PA 17109
Pennsylvania residents please include 6% state sales tax. US funds; for delivery outside US add $12 per copy. Allow up to 4 weeks for delivery.