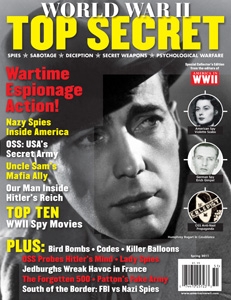 In the shadows of World War II's land, air, and sea battles, another war raged–a war of espionage, strange weapons, sabotage, and deceit. America played her part in this hidden battle against the Axis, but the stories remained untold for decades.
Join us as we reopen the files of America's hidden war in WORLD WAR II TOP SECRET, a special edition from AMERICA IN WWII magazine.
This lavishly illustrated 100-page treasury features:
• America's wartime deal with the Mafia
• the OSS, America's secret army
• cracking Axis codes
• a US spy inside Hitler's government
• Nazi spies on US soil
• bird bombs, killer balloons, and other weird weapons
• the OSS's shocking psychoanalysis of Hitler
• nasty Nazi propaganda
• female operatives
• the OSS's pre-D-Day subversion in France
• General Patton's bogus army
• the FBI's battle against Axis agents in South America
• an OSS rescuer in Yugoslavia tells his story
• our top 10 WWII spy films
• and more!
WORLD WAR II TOP SECRET is on sale starting May 17 at bookstores near you. But you can get it delivered to your home–at no extra charge! (For delivery outside the United States, please add $6 per copy.) Reserve your copy today and pay only the cover price of $9.99—with no charge for shipping and handling!
Or send your check or money order to: WWII Top Secret, c/o America in WWII, PO Box 4175, Harrisburg, PA 17111-0175
World War II Top Secret
96 pages plus cover, perfect-bound