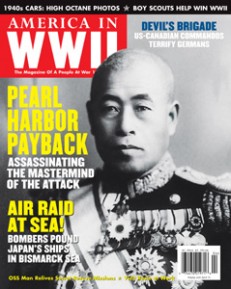 Order a copy of this issue
Payback for Pearl Harbor
Armed with secret knowledge from code-breakers, US pilots blasted the man behind the Pearl Harbor raid out of the sky in April 1943. By Tom Huntington
The Devil's Brigade
Trained to ski, parachute, climb mountains, stalk, and kill with knives, the First Special Service Force commandos struck terror in German troops. By Brian John Murphy
Car country!
Even with a war on, the 48 states were car country, and Americans found mobility, freedom, and fun behind the wheel. By John E. Stanchak
The other boys in uniform
America's Boy Scouts threw themselves into the war effort with a vigor and effectiveness that shocked government officials. By Bruce Heydt
Bombing the Bismarck Sea
In March 1943, ocean convoys poured Japanese troops into New Guinea–until land-based Allied bombers flew out on a devastating sea raid. By Eric Ethier
To top it off, share an OSS guerilla's memories of rescuing US airmen in Romania and Serbia, and tour a real WWII boomtown.