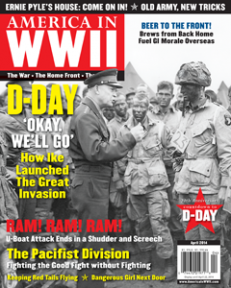 Order a copy of this issue
Features
GIs 'Invade' England
War-weary Brits saw the Americans as unsoldierly, extravagant. But as they prepared to cross the Channel together to drive the Germans out of France, Brits and Yanks became fast friends. By Brian John Murphy
Ram! Ram! Ram!
For months, Allied shipping ran scared from U-boats. One night in the icy North Atlantic, a US Coast Guard skpper figured out how to beat them. Or did he? By George Cholewczynski
The Pacifist Division
Men of the Civilian Public Service didn't fight the enemy. But their war was still a struggle—with hostile neighbors, thankless tasks, and high-risk assignments. By Robert Gabrick and Barbara Markham
Morale in a 12-Ounce Can
Meats, veggies, and boxed rations fed the fighting man's body. Beer fed his spirit—but getting it wasn't easy.

Departments
Kilroy
Notes from our Editor: "The Fighting Amish?"
V-Mail
Letters from Our Readers
Home Front
Horse Racing
Pinup
Margie Stewart
Landings
The Home Ernie Pyle Left Behind
Website of the Ernie Pyle WWII Museum
I Was There
The Old Army Meets Blitzkrieg
War Stories
Memories from the War Years
Books and Media
Our Latest Reviews
Theater of War
The Caine Mutiny
78 RPM
Perry Como
WWII Events
A Calendar of Present-Day Happenings
GIs
He Kept Red Tails Flying