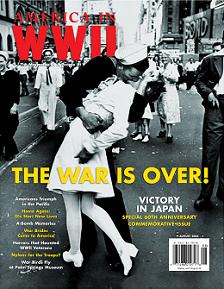 This issue is sold out.
The end
It was the end. It was the beginning. It was hope. At home and around the world, Americans celebrated like never before. By Eric Ethier. Full story
Little Boy and Fat Man
Sixty years ago, a pair of atom bombs scorched Hiroshima and Nagasaki. Today, people who helped build them and people who felt their deadly power still grapple with the bombs' grim realities. By Terry W. Burger. Full story
Back under the apple tree
When the Yanks came home from the war, they threw themselves into life full-force—marrying, having babies, and building prosperity—even as Communist threats loomed. By Tom Huntington
War brides
First came love. Then came marriage. Then came life in a strange new land, and farewell to everything familiar. Most GI war brides wouldn't have traded it for the world. By Brenda J. Wilt. Full story plus commentary by the editor
Haunted
Did the soldiers of the "Good War" really come home psychologically unscathed by the horror and stress they experienced? Or did they simply suffer in silence? By Mark Van Ells. Full story
To top it off, an army engineer describes the critical, back-breaking work of bridge-building; nylon disappears into the war effort, leaving the well-dressed woman in a real bind without stockings; and much more from the battle front and the home front.