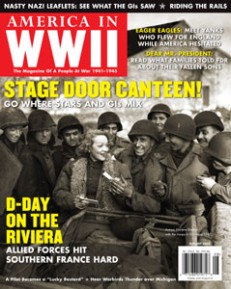 This issue is sold out.
Riviera D-day
Operation Dragoon was part two of Ike's one-two punch against the Germans in France. The country's southern coast was the target. By Eric Ethier. Full story
'No liquor, but damned good anyway'
Where could a GI enjoy the best big bands, dance with the ladies, and rub elbows with the likes of Marlene Dietrich? Only at the Stage Door Canteen. By Cathy K. Urwin. Full story
The king's own Yanks
Long before the United States entered the war, gutsy American fliers battled the Luftwaffe as members of Britain's Eagle Squadrons. By William Wolf
Despair! Surrender! Run away!
They fluttered from the sky, but these Axis leaflets weren't messages from heaven. They were meant to demoralize American troops. By Brian John Murphy
'With all the pieces of my broken heart'
When families of fallen GIs received FDR's official condolences, many of them wrote back. Their words reveal the heart of WWII America. By Robert Gabrick and Barbara Markham
To top it off, grab your flight suit and head for the rumble of engines at Thunder over Michigan; find out what it was like to ride the rails in the day when conductors still actually yelled "All aboard!" and follow the rise of the song that many wanted to make the new national anthem:"God Bless America."