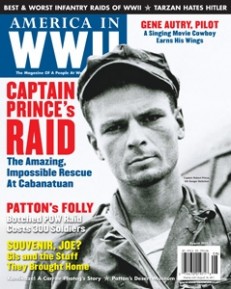 Order a copy of this issue
Features
Raid Gone Right: Crashing Cabanatuan
The idea sounded crazy: burst into a Japanese stronghold and walk off with some 500 Allied POWs. It would be the war's most sensational rescue. By Larry Alexander
Gallery
US Army Rangers and Filipino guerrillas free hundreds of ill and starving Allied captives from the Japanese Cabanatuan prison camp on Luzon in early 1945.
Raid Gone Wrong: Patton's Regret
A motorized US task force raced into Germany to free POWs–including General George Patton's son-in-law. Then came the hard part: the getaway. By Éric Grenier
A Cowboy Gets His Wings
Gene Autry, America's favorite singing cowboy, traded his horse–but not his boots–for the pilot's seat of an army cargo plane. By Richard Sassaman
Link
Find photos, film footage, recordings, biographical material, information on Autry-related historical sites, and much more.
The Souvenir-Hunters
Sure, our GIs were fighting men, liberators of the oppressed, defenders of freedom. But they were also collectors–among history's most voracious. By Mark D. Van Ells
Departments
Kilroy Was Here
Notes from our editor: "Raid? What Raid"
V-Mail
Letters from our readers
Home Front
Roller-skating through the war
Footage
Roller skating in technicolor
The Skating Vanities and its star Gloria Nord did a routine for the 1944 Betty Grable movie Pin Up. Skaters take the stage in glorious red-white-and-blue at 2:06 in this clip, and Nord, herself a popular pinup, first peeks out at 2:54.
Pinup
Yvonne De Carlo
Footage
From GI dream girl to campy TV vampiress
It was a long, strange trip from bathing beauty posing for the camera to undead harpist performing for beatniks. Here's the end of that trip, in an outtake from an epidosde of the 1960s sitcom The Munsters.
The Funnies
Tarzan
I Was There
A navy photographer ducks kamikazes on USS Essex
Landings
California's Patton Memorial Museum
War Stories
Memories of the war
Flashbacks
Print ads from the war years
Books and Media
Reviews of the latest releases
Theater of War
Merrill's Marauders
78 RPM
"The Star-Spangled Banner"
Footage
An operatic national anthem
If you went to the movies late in World War II, you would at some point have seen this 1944 reel with operatic singing by Brooklyn's Merrill Miller.
WWII Events
A calendar of present-day happenings
GIs
U-Boat Slayer