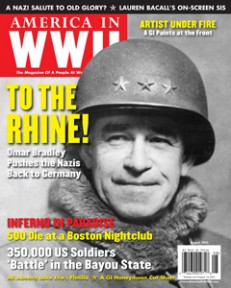 Order a copy of this issue
Features
Armed with a Paintbrush
Army artist Ed Reep dodged bullets and bomb blasts to give Americans back home a closeup look at the war. By Melissa Amateis Marsh
To the Rhine!
The Bulge was broken, but the Allies on Germany's western edge weren't out of the woods yet. Now they had to fight their way to the mighty Rhine. By Eric Grenier
web extra: From Our galleries Archive
Join the fighting GIs on their long, dangerous journey across Europe to end the tyranny of the Third Reich.
Dress Rehearsal for War
The time to act was near, and the US Army needed practice. So 350,000 soldiers went into "battle in the Bayou State. By Michael Edwards
WEB EXTRA: fROM oUR gALLERIES aRCHIVE
Before the new recuits could fight in live war games, they had to learn to be soldiers. Their school was boot camp.
Inferno in Paradise
A thousand soldiers, sailors, and civilians packed Boston's Cocoanut Grove nightclub on November 28, 1942. By night's end, half of them were dead. By Chuck Lyons
Departments
Kilroy Was Here
A note from our editor: "The Bad and the Ugly"
V-Mail
Letters from our readers
Home Front
Hail Old Glory!
Pinup
Martha Vickers
I Was There
His and Her War
Landings
The Lake Erie Flotilla
Web Extra: Link
War Stories
Readers' memories of the war
Flashbacks
Print ads from the war years
Books and Media
Our take on the latest releases
Theater of War
A Yank in the R.A.F.
Web Extra: Footage
Official Movie Trailer
78 RPM
Stan Kenton
Web Extra: Footage
Tampico
June Christy took over the singer's mic in the Kenton band in 1945. Here she and the band perform the title cut in the movie that same year.
WWII Events
A calendar of present-day happenings
GIs
A Honeymoon Cut Short