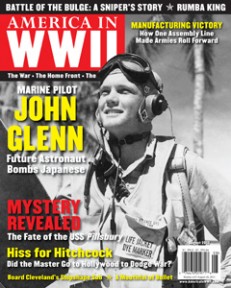 Order a copy of this issue
Features
ASTRONAUT IN TRAINING
Years before John Glenn became the first American to orbit Earth, he was a marine pilot wrangling for more combat action against the Japanese. By Susan Zimmerman
DROWNED IN MYSTERY
The US destroyer Pillsbury disappeared off Java in March 1942. Only her Japanese attackers knew what happened.
Seventy years later, the story is finally told here… By Donald M. Kehn, Jr., with Anthony P. Tully
MANUFACTURING VICTORY
To win the war, America needed heroes at the front—and on the assembly line. The Four Wheel Drive Company of little Clintonville, Wisconsin, had them to spare. By Robert Gabrick
Web Extra: Recording
Glenn Miller's Work Song
"On the Old Assembly Line," recorded a week after the Pearl Harbor attack as a tribute-in-advance to the millions of men and women who would keep things running on America's home front through the war years.

Web Extra: Gallery
Assembly line workers in Clintonville kept the armies rolling forward at the front.
THE TROUBLE WITH HITCHCOCK
Brits were brassed that 'Alfred the Great' left home to strike Hollywood gold while they were stuck digging in against the Nazis. By John E. Stanchak
Web Extra: Footage
The Master's First Wartime Release
The relentless, fast-paced Saboteur made a lot of people forgot about the war for a couple of hours when it hit theaters in April 1942. And it made a lot of money doing so.

Departments
Kilroy
Notes from our editor: "Finding a Way to Say Thanks"
The Honor Flight organization thanks WWII veterans for their service by flying them to Washington, DC, to see the national memorial built in their honor.
V-Mail
Letters from our readers
Home Front
An Early Rosa Parks
Pinup
Rhonda Fleming
THE FUNNIES
Bulletman and Bulletgirl
Landings
Cleveland's Shipshape Sub
I Was There
Sniper at the Bulge
Web Extra: From Our Gallery Archives
Here's what it looked like when GIs battled two enemies-–the Germans and a savage winter–-to recover Belgian ground lost to blitzkrieg.
War Stories
Memories from the war years
Books and Media
The latest reviews
Theater of War
36 Hours
Web Extra: Footage
The Official Trailer
Germans try to trick an American major played by James Garner of TV's Rockford Files into thinking the war is over so he'll spill the beans about plans for the Allied invasion of Europe.

78 RPM
Xavier Cugat
WWII Events
A calendar of present-day happenings
GIs
Shot in the Mouth