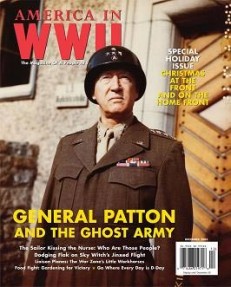 This issue is sold out.
Patton's ghost army
The army General George Patton fielded for the 1944 Normandy Invasion was unlike any other. It was a complete and unabashed fake. By Brian John Murphy. Full story
Christmas under the gun
World war II changed the way Americans celebrate their winter holidays. But those holidays of light also changed the dark experiences of war. By Terry Burger. Full story
Merry or not
It took a bit of imagination, but WWII Americans were determined to make their wartime Christmases merry and bright–and they did! By Jim Kushlan
Web Extra: Footage
Travel back to the 1940s and taste the bittersweet experience of wartime Christmas at the front and on the American home front.
---
The kissers
Did the sailor and the nurse in the famous V-J Day kiss scene know each other? No, they didn't. Do we know who they are today? Well, maybe… By Tom Huntington. Full story
The littlest warbirds
World War II's mighty bombers and fighters shared the sky–but not the spotlight–with humble, hardworking liaison planes, workhorses with wings. By Drew Ames
T o top it off, hit the ground running at the D-Day Museum in New Orleans, discover some of the best new books about World War II, and find out how Americans on the home front helped win the war with hoes, trowels, and seeds.