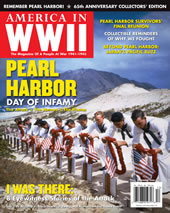 This issue is sold out.
Day of infamy
If there was any doubt that America would join the fight against the Axis, it ended on December 7, 1941, with the shock attack on Pearl Harbor. By Tom Huntington
Japan's Pacific blitz
Pearl Harbor wasn't the only target left in flames when imperial Japan seized power in Asia and the South Pacific in December 1941. By Brian John Murphy. Full story
The final reunion
Sixty-five years after the attack that sent them to war, the remaining members of the Pearl Harbor Survivors Association are gathering in Hawaii one last time. By Daniel A. Martinez
Remember Pearl Harbor!
Striking a match, sending a postcard, or even getting dressed, WWII Americans heard the same rallying cry over and over: Remember Pearl Harbor! By Martin Jacobs. Full story.
To top it off, pay your respects to our fallen sailors at Pearl Harbor's USS Arizona Memorial, read memories of Pearl Harbor day from WWII veterans and civilians, and find out what America experienced in its first 24 hours of war.