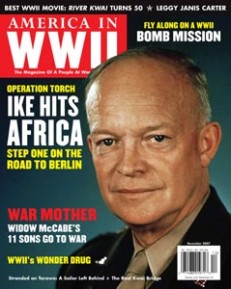 Order a copy of this issue
Into Africa
Ike's 1942 invasion of North Africa was a minefield of Gallic pride, firece fighting, and bungled landings. But it brought America into the war against Hitler. By Eric Ethier
Penicillin to the rescue!
The greatest threat to our WWII fighting men wasn't a bomb or a tank. It was infection–until a new miracle drug reached the front. By Brenda Wilt
Anatomy of a bomb mission
Follow the daring men of America's heavy bombers through the routines and risks of a mission over Europe. By Drew Ames
War mother
No mother had more at stake in the war then widow Esther McCabe, whose 11 sons all served overseas. By Hugh Conrad. Full story
Bridge on the river Kwai
A half-century ago, an Oscar-winning film with a whistled opening march set the standard for every WWII movie that would follow. By Mark Weisenmiller
To top it off, find out what a navy man did when he got stuck on Tarawa in a marine assault; travel to the site of the real bridge on the River Kwai–Kachanaburi, Thailand; and learn what happened when a man got drafted.