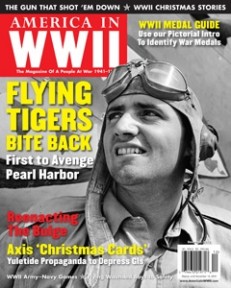 Order a copy of this issue
Features
Flying Tigers bite back!
Two weeks after Pearl Harbor, shark-faced Flying Tiger fighters break Japan's winning streak, devouring a raid over China in their first combat. By Daniel Ford
Gazda and his gun
When war broke out, arms dealer Antoine Gazda left neutral Switzerland and brought America a gun that turned Axis planes into Swiss cheese. By Eric Ethier
Have yourself a merry little Christmas
The yuletide greetings that Axis propagandists showered on GIs weren't exactly full of peace and goodwill, but they gave the boys a holiday chuckle. By Jim Kushlan
What the medals mean
Start learning about your dad's or grandpa's WWII service by looking at his medals–with help from our pictorial guide.
Departments
Kilroy
Notes from our editor
V-Mail
Letters from our readers
Home Front
The Army-Navy game
Pinup
Joan Vohs
Landings
Pennsylvania's Battle of the Bulge
War Stories
Our readers recall wartime Christmas
Flashback
Old-time ad
Books and Media
The latest reviews
Theater of War
Flying Tigers
78 RPM
"The Christmas Song"
WWII Events
A calendar of present-day happenings
GIs
One man's war