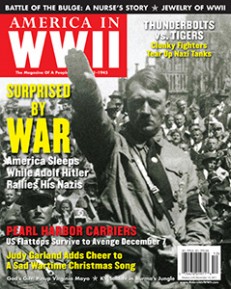 Order a copy of this issue
Features
Surprise, America! You Are at War
As Germany, Japan, and Italy rallied their troops, Americans buried their heads in the sand. But war was coming to them, like it or not. By Brian John Murphy
Revenge of the Pearl Harbor Survivors
Something was missing when the Japanese attacked Pearl Harbor: America's mighty aircraft carriers. Those battle-ready flattops would make Japan pay dearly. By John E. Nevola
gallery
After surviving the Pearl Harbor raid unscathed, US aircraft carriers lead the counterattack against the Japanese. Things went well. But not everything.
From our Articles Archive
Just after Pearl Harbor, a half-dozen PT boats were the US Navy's only combat-ready force. They went at the Japanese with a vengeance—but at a terrible cost. By Joe Hinds.
Thunderbolts versus Tigers
German Tiger tanks were invincible–or so some people said. It took a clunky, heavy, jug-shaped fighter to prove them wrong. By Robert F. Dorr
Red, White, Blue, and Gold
Boeing made bombers. Ford made tanks. The TIffanys of the world managed to keep doing what they always did–make luxury items–but with a patriotic twist. By Gabrielle Kushlan
Departments
Kilroy Was Here
A note from our editor: "What Sort of Kilroy"
V-Mail
Letters from our readers
Home Front
The Philadelphia Experiment
Pinup
Virginia Mayo
The Funnies
Captain Flag
I Was There
Nurse at the Battle of the Bulge
From our Galleries Archive
Here's what it looked like when GIs battled two enemies–the Germans and a savage winter–to recover Belgian ground lost to blitzkrieg.
Landings
Liberty Park in the Netherlands
Link
War Stories
Readers' memories of the war
Flashbacks
Print ads from the war years
Books and Media
Our take on the latest releases
Theater of War
The 49th Parallel
78 RPM
"Have Yourself a Merry Little Christmas"
Footage
Judy Garland in Meet Me in St. Louis
The star of the Wizard of Oz performs the classic "Have Yourself a Merry Little Christmas" in this movie clip from 1944.
WWII Events
A calendar of present-day happenings
GIs
"A K9 Soldier in Burma's Jungle"