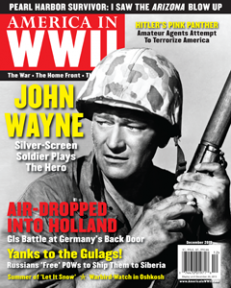 This issue is sold out.
Features
HOLLYWOOD'S HERO
John Wayne talked tough as he dodged enemy bulltes–on movie sets. The fire from critics was harder to avoid. By John E. Stanchak
Web Extra: Footage
The Duke's Classic WWII Film
Sands of Iwo Jima wasn't made until 1949, but the fictional film treatment of the early 1945 battle with the Japanese is John Wayne's most famous role as a fighting GI.

DEVILS AT GERMANY'S BACK DOOR
All the 504th "Devils in Baggy Pants" Parachute Infantry had to do was jump hundreds of fee past whistling flak, march a dozen miles, and cross a river in canvas rowboats through a monsoon of gunfire. Maybe then Operation Market Garden would succeed. By George Cholewczynski
YANKS TO THE GULAGS!
To POWs in German camps, the rumble of the approaching Red Army was the sound of freedom. Or so they thought. Thousands of GIs ended up in Siberia–or worse. By Brian John Murphy
OPERATION PINK PANTHER
A secret plot to blow up US bridges, utilities, and factories came from Hitler himself. But once agents started defecting, or partying like Wall Streeters on expense accounts, could any terrorism get done? By Chuck Lyons
Web Extra: More German Operatives Land on the East Coast
A rubber raft splashed ashore in the dark at Bar Harbor, Maine, on the night of November 29, 1944. Clearly, the men in the raft were up to something… 
Departments
Kilroy
Notes from our editor: Golly Gee Willickers!
V-Mail
Letters from Our Readers
Home Front
America Goes Bananas
Pinup
Jane Adams
THE FUNNIES
The Human Torch
LANDINGS
Warbird-Watching in OshKosh
I Was There
Revenge at Pearl Harbor
War Stories
Memories from the War Years
Books and Media
Our latest reviews
Theater of War
In Harm's Way with John Wayne
78 RPM
"Let It Snow! Let It Snow! Let It Snow!"
Web Extra: Audio
The First Recording
Vaughn Monroe was the first singer to cut the now-classic winter tune to shellac on Halloween of 1945.

WWII Events
A Calendar of Present-Day Happenings
GIs
Witness to Japan's Surrender