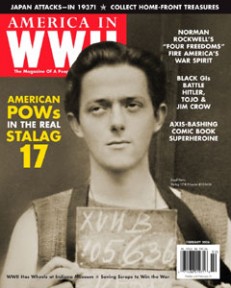 This issue is sold out.
Stalag 17-B
The prison that inspired a movie and a TV comedy was a dingy, fleabag patch of hell for the Allied "kriegies" who got stuck there. By Eric Ethier. Full story
Prelude to Pearl Harbor
The first American casualties in the conflict with Japan fell not at Pearl Harbor in 1941, but in China in 1937. By James I Marino. Full story
Norman Rockwell and the Four Freedoms
When bold words from FDR stirred a beloved American artist to action, the result was a set of paintings that forever captured our country's spirit. By Bruce Heydt. Full story
Ready for action
Black Americans stepped forward for WWII military service like everyone else—despite racist notions that sought to keep them on the sidelines. By Tom Huntington
Home-front treasure
What were once everyday knickknacks and doodads in a nation at war are valuable antiques today. Learn how to start your own collection. By Martin Jacobs. Full story
To top it off, watch the first comic book heroine sock Axis bullies, and check out World War II's wheeled vehicles at a unique museum.