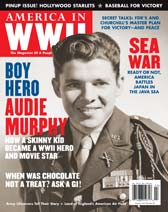 This issue is sold out.
Audie Murphy: A life larger than legend
Rejected twice for war service, this scrawny Texas farm boy became America's most decorated WWII here–and a movie star. By Tom Huntington. Full story
Sitting ducks on the Java Sea
A handful of US ships sailed with an Allied force to face a Japanese fleet off Java in early 1942. By Eric Ethier
Chocolate! The war's secret weapon
Our GIs went to war well supplied with weapons, clothing–and chocolate! By T.W. Burger Full story
A plan for war and peace
On a warship at sea, FDR and Churchill forged a vision of a world where war and tyranny were extinct. It became the charter of the Allied powers. By Mark Weisenmiller
From Hollywood with love
Actresses of the silver screen inspired the boys overseas by posing for leggy glamour shots that adorned many a barracks wall. By John Stanchak. Full story
To top it off, set a course for old Eighth Army Air force stomping grounds in England's Duxford-Cambridge area; read more Pearl Harbor memories (continued from the December 2006 issue); take a peek through a knothole at America's national pastime, and hear of the silly song that captured a serious nation.