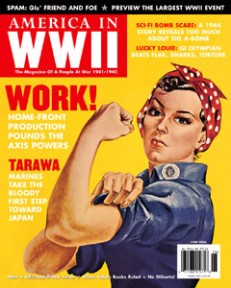 This issue is sold out.
Work, work, work!
While GIs grappled with America's foes, civilians waged a workplace war for greater productivity—spurred on by a lively poster campaign. By Tom Huntington
Tarawa: The first beach
It was going to be a long, hard road to Japan, island by island. Until the bloody landing on Tarawa, though, no one understood just how hard.
Spam again?
It was the grub GIs loved to grumble about—not because it wasn't tasty, but because it was always there, sometimes three times a day. By Bruce Heydt. Full story
Ynamre gets the bomb
Never mind that the 1944 story was set on another planet. The deadly bomb of the evil Sixa powers sounded too much like the Manhattan Project's biggest secret. By Richard Sassaman. Full story
Lucky Louie
Lou Zamperini was lucky. He survived a risky, put-up-your-dukes childhood and made it into the 1936 Olympics. But in May '43, in a B-24 over the Pacific, his luck seemed to run out… By Martin Jacobs. Full story
To top it off, discover one of America's liveliest WWII events and the charming air museum that hosts it; let a sailor tell you about his combat stress; find out what it was like when Uncle Sam decided who could buy what.