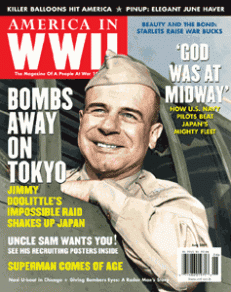 This issue is sold out.
The impossible raid
Just when Axis Japan felt invincible, Lieutenant Colonel James Doolittle hit Tokyo with a daring bomber raid that shattered Hirohito's peace of mind. By Richard Sassaman. Full story
Revolution at Midway
The age of the aircraft carrier dawned decisively near the Midway islands in June 1942–when a fiery battle made America the Pacific's dominant naval power. By Eric Ethier
Killer balloons over America
Giant, gas-filled paper globes drifted serenely across the Pacific in 1945, on their way to terrorize the United States with random bomb strikes. By Bruce Heydt. Full story
Come and fight!
The spearhead of America's war machine was its fighting GIs, and by 1942, Uncle Sam was looking for more than just a few good men. By Tom Huntington
To top it off, board a captured U-boat in Chicago; let a radar man explain how he led US warplanes through inky skies–with his feet firmly on the ground; and screen the story of a US sub on a top-secret mission to bomb Tokyo.