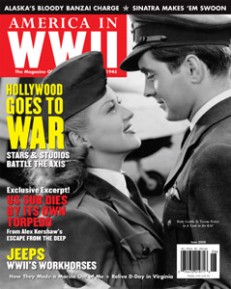 Order a copy of this issue
Lights. Camera. War!
Movie-making became a war industry when Hollywood turned its talents against the Axis—under the US government's ever-prying eye. By Tom Huntington
Hell on ice
With Japanese forces dug in and Americans hitting the beach, the fight for the Aleutians was classic island warfare, only colder. But did it matter? By Richard Sassaman
The last torpedo
The USS Tang was on a winning streak. Once she fired her one remaining torpedo, she could head home to bask in glory—if everything went as planned. An exclusive book excerpt from Alex Kershaw's Escape from the Deep. Read the excerpt
Jeep!
The army's quarter-ton 4×4 truck—the jeep—was the 20th century's answer to the horse: rough-riding, able to go anywhere, and easier to fix. By Drew Ames
To top it all off, sweat through boot camp with a WWII marine, join us for a pilgrimage to the town that gave the most on D-Day, and cheer on the comic book skinny guy who became Captain America.