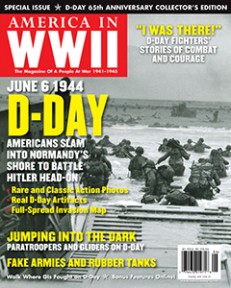 Order a copy of this issue
June 6, 1944: The eternal day
The free people of the earth had come to liberate Europe from a tyrant's grasp. D-Day–the Allied invasion of Normandy–would begin Adolf Hitler's downfall.
New target: Normandy
The Allies battled the forces of the Third Reich in Africa, Sicily, and Italy. Now it was time to take the war directly to Adolf Hitler's Fortress Europa.
How to turn a tide
All of southern England became a military base as General Dwight Eisenhower forged and honed the deadliest weapon: absolute readiness.
D-Day, H-hour
Through predawn blackness, gray seas, and exploding shells, the Allied liberation force slammed into Nazi-held Normandy–and held on.
'Nothing less than full victory'
There was no going back. The only way off the deadly beaches was up and out, into France and toward the enemy–all the way to Germany.
To top it off, walk where GIs fought on D-Day, and see what happened to draftees who refused to fight because they morally opposed war.
Also, check out the online bonus features to this print issue