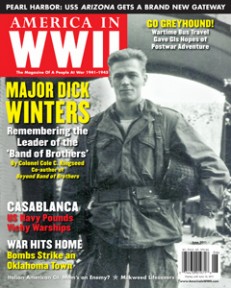 Order a copy of this issue
Features
Major Dick Winters: Genuine Legend, Genuine Man
What made Major Dick Winters a great commander? The same thing that made him a great friend: He genuinely cared about people. By Colonel Cole C. Kingseed
Link
Find biographical information, photos, letters, and more from the Easy Company man made famous in Band of Brothers.
America's Historian Takes Casablanca
In November 1942, US warships blasted a hole in Vichy defenses to reach Morocco–with historian Samuel Eliot Morison in the heat of the battle. By Vincent P. O'Hara
GIs Go Greyhound!
Greyhound motored America's wartime service men and women across the country–and promised them motorcoach adventures once the war was won. By Robert Gabrick
Gallery
There was no escaping the world war, and America's intercity bus company changed with it like everything else did–while peering through a rose-colored windshield at the promising postwar future on the horizon.
The Bombing of Boise City
Every US town prepared for air raids, but no raid ever came. Except for the night of July 5, 1943, when bombs rained on an Oklahoma town. By Chuck Lyon
From Our Articles Archive
Boise City was the only US town bombed during World War II. But in 1945, giant gas-filled paper globes drifted serenely across the Pacific on their way to terrorize the United States with random bomb strikes.
Departments
Kilroy Was Here
Notes from our editor: "Big Crowd for a Quiet Man"
V-Mail
Letters from our readers
Home Front
Milkweed floss to the rescue
Pinup
Jane Russell
Footage
The Outlaw
Censors thought the 1943 movie financed by multimillionaire Howard Hughes was too racy and blocked its general release. Undeterred, Hughes promoted the movie ceaselessly and by the time it came out in 1946, costar Jane Russell was famous. View the official trailer.
Landings
Pearl Harbor's brand-new gateway
Link
Find information on the Pearl Harbor Visitor Center, the USS Arizona Memorial, video memories of Pearl Harbor survivors, and more at the Pearl Harbor section of the official National Park Service website.
War Stories
Memories from the war years
Flashback
Old-time ad
Books and Media
The latest reviews
Theater of War
Sahara
78 RPM
Billie Holiday
WWII Events
A calendar of present-day happenings
GIs
Air Man