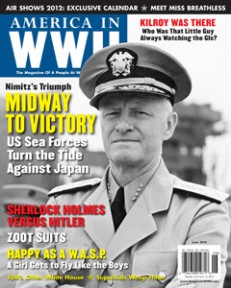 Order a copy of this issue
Features
Midway to Victory
Just four months after Pearl Harbor, America forces in the Coral Sea halted Japan's brief charge toward victory. Then they cut its heart out at Midway. By Brian John Murphy
Web Extra: Gallery
The mid-1942 clashes in the Coral Sea and at Midway were the world's first fights between aircraft carriers. Plenty of photos were taken to remember them by.
Web Extra: From Our Articles Archive
Before Americans turned the tide at Coral Sea and Midway, Japan had its way in the big ocean.
Zoot!
It wasn't easy for a poor boy to get out of the ghetto. But he could escape for the night by putting on a zoot suit and dancing the jitterbug. By John E. Stanchak
Kilroy Was There
GIs were all over the world in the early 1940s. And wherever they went, a mysterious little cartoon character was watching them from behind a wall. By Chuck Lyons
Link
Find Kilroy stories and pictures and the petition to put Kilroy on a US postage stamp.
Sherlock Holmes Stalks the Nazis
Hollywood resurrected the world's greatest detective as a 20th-century spy to help defeat the world's greatest villain. By David Norris
From Our Articles Archive:
The master from Baker Street stalked the Nazis on the silver screen. The OSS did it for real.
Departments
Kilroy Was Here
A note from our editor: "Born to Draw Kilroy"
V-Mail
Letters from our readers
Home Front
Weather Report Censorship
Pinup
Marguerite Chapman
I Was There
A Girl's Dream Takes Flight
Landings
FDR's Other White House
Link
War Stories
Readers' memories of the war
Flashbacks
Print ads from the war years
Books and Media
Our take on the latest releases
Theater of War
The Americanization of Emily
Web Extra: Footage
Official 1964 Movie Trailer
78 RPM
Vaughn Monroe
WWII Events
A calendar of present-day happenings
GIs
GIs: Up from the Foxhole