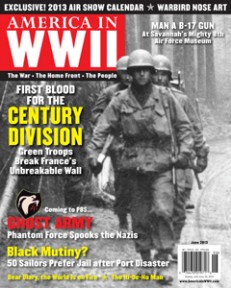 Order a copy of this issue
Features
First Blood of the Century
For two millenia, invading armies had shed their lifeblood trying to break through France's Vosges Mountains. Now it was the Century Division's turn. By Edward G. Longacre.
Web Extra: From Our Articles Archive
The war was nearly won. But as the 100th Division's GIs attacked fortified Heilbronn, Germany, they feared they'd never see V-E Day. By Edward G. Longacre
Attack of the Ghost Army
The director of a new PBS documentary tells the once-secret story of how phantom US troops, inflatable tanks, and Hollywood sound effects fooled the Wehrmacht. By Rick Beyer
Web Extra: Link
Painted Ladies in the Sky
The American bombers and fighters that battled in Europe's skies wore a new kind of art–nose art, in lively designs that ranged from silly to sexy. By Gail Downey
Web Extra: Link
The Navy Called It Mutiny
When explosions killed 202 black sailors loading ammo ships in California, survivors refused to return to that work. That's when the navy cracked down. By Chuck Lyons
Departments
Kilroy
Notes from our editor: "Ghostly by Design"
V-Mail
Letters from our readers
Home Front
Trouble at Monkey Ward
Pinup
Lupe Vélez
Web Extra: Footage
Velez in The Mexican Spitfire at Sea
The Mexico-born pinup pretends to be a cat in a 1942 film from her Mexican Spitfire series.
Landings
A Mighty Air Museum in Georgia
Web extra: Link
Web Extra: Footage
Watch B-17 Flying Fortresses go out on the first all-American bomb raid over Europe, in 1942. This time, everyone comes home… In three installments.
War Stories
Memories from the war years
Books and Media
The latest reviews
Theater of War
Hell Is for Heroes
Web Extra: Footage
Official Movie Trailer
78 RPM
Cab Calloway
Web Extra: Footage
Calloway in Stormy Weather
The zoot-suited Hi De Ho man performs "Geechy Joe" in 1943's all-black movie musical.
WWII Events
A calendar of present-day happenings
GIs
Liberated by Patton