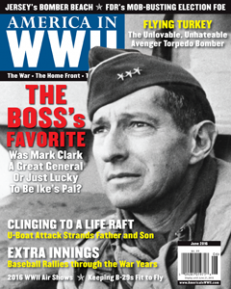 Order a copy of this issue
Features
Clinging to Life on a Life Raft
Fifty miles seemed close enough to New Orleans not to fear a U-boat attack. Yet there was Heredia sinking, and Ray Downs struggling to save his eight-year-old son. By Michael J. Tougias and Alison O'Leary.
Rising Star, Falling Star
No one so young had ever made full general. But Mark Clark, who chose the glory of capturing Rome instead of destroying a German army, didn't deserve it, critics said. By William Floyd, Jr.
Extra Innings
Pro baseball had to answer a pressing question in 1942: Should we be playing games while the nation fights a war? The president and an anxious citizenry replied: Play ball! America in WWII Photo Essay
The Flying Turkey
Hunting Japanese warships, the Avenger torpedo bomber was rigid rather than graceful, reliable rather than remarkable. Few pilots loved it. But none hated it. And most survived in it. By Robert F. Dorr

Departments
Kilroy
A Note from Our Editor
V-Mail
Letters from Our Readers
Home Front
Mr. Mail-Order Muscles
Pinup
Julie London
Landings
Naval Air Station Wildwood Aviation Museum
Visit the NAS Wildwood Aviation Museum
I Was There
"Flying Sideways"
War Stories
Memories from the War Years
Books and Media
Our Latest Reviews
Theater of War
Desperate Journey
78 RPM
"The Airborne Symphony"
WWII Events
A Calendar of Present-Day Happenings
GIs
"Willy's Bombardier"