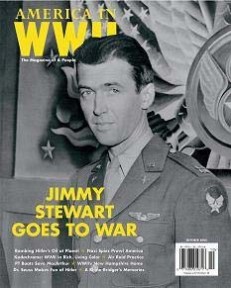 This issue is sold out.
Mr. Smith goes to war
Jimmy Stewart played the ordinary hero who was just doing his job. He played the same role in real life in the air war over Europe. By Bruce Heydt
Kodachrome war
If you're used to thinking of World War II in black and white, hold on to your chair! Here's the war in vivid color.
Raid in ruins
Hitler's war machines ran on petroleum from Ploesti, Romania, and that meant Ploesti had to burn. In August 1943, 178 American bombers set out to do the job. Few would return. By Jay A. Stout. Full story
Nazi spies in New England
Coming ashore from a sub off the Maine coast, a German spy quietly entered the United States. His mission: learn about America's A-bomb. By Richard Sassaman. Full story
Squadron of furies
Just after Pearl Harbor, a half-dozen PT boats were the US Navy's only combat-ready force. They went at the Japanese with a vengeance—but at a terrible cost. By Joe Hinds. Full story
To top it off, wander straight into the WWII home front at the Wright Museum in New Hampshire, find out how American cities and towns prepared for enemy air raids, and read a new round of War Stories!