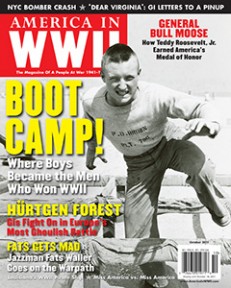 Order a copy of this issue
Features
Ten-hut!
Hair shorn, run ragged, and treated with no respect, ordinary Joes became war-winning GI Joes at boot camp. Photo essay by Jim Kushlan
Gallery
New recuits got an occasional fatherly pat on the back, but being indoctrinated into the military was hardly a family picnic at the park. There was exercise and long marches and drilling. And more exercise.
From the America in WWII Articles Archive
The time for depending on volunteers had passed. The world war had come to America, and men had to be forced into uniform right away. Boot camp, here they come. By Carl Zebrowski
Fighting Blind in HÜrtgen Forest
US troops fought and bled for six months in Germany's tangled Hürtgenwald. Only halfway through did their generals realize why. By Edward G. Miller
Son of a Bull Moose
Theodore Roosevelt, Jr., looked like his famous dad. He even shouted "Bully!" And like his dad, he was brave, as he proved to the world on D-Day. By Tom Huntington
Fats
Jazz ivory-tickler Fats Waller lived large and played hard. But when Hitler and tojo messed with America, Fats went on the warpath. By John E. Stanchak
Departments
Kilroy Was Here
A note from our editor: "Hello, GI Life"
V-Mail
Letters from our readers
Home Front
A bomber crashes into the Empire State Building
Pinup
Ginger Rogers
Footage
Ginger ROgers from the cutting-room floor
Sixty years before Renée Zellwegger played the starring showgirl in the Oscar-winning 2002 film Chicago, Ginger Rogers played the same character. In this scene that didn't make the final cut of 1942's Roxie Hart, Rogers does the Charleston as only she could.
The Funnies
Miss America vs. Miss America
I Was There
GIs write letters to a Hollywood bombshell
Landings
A pirate ship on the Missippi–the USS Kidd
Link
War Stories
Readers' memories of the war
Flashbacks
Print ads from the war years
Books and Media
Our take on the latest releases
Theater of War
Von Ryan's Express
78 RPM
Sir Lancelot
Footage
America's First calypso king sings in a zombie movie
Sir Lancelot adapted his song "Shame and Scandal in the Family" for 1943's I Walked with a Zombie, now a certified zombie film classic.
WWII Events
A calendar of present-day happenings
GIs
"Armed with a Mortar and a Camera"