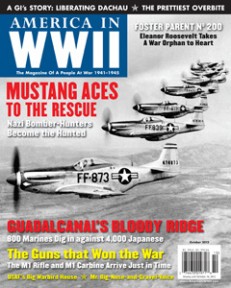 Order a copy of this issue
Features
The Bloodying of Bloody Ridge
Under cover of dense jungle, 4,000 Japanese advanced to capture Guadalcanal's critical Henderson airfield. Now just 800 marines stood in their way. By Larry Alexander
The Guns that Won the War
America's soldiers almost went to war armed with toys and antiques. But the M1 Garand rifle and M1 carbine arrived just in time. By Richard Sassaman
Web Extra: Gallery
Arriving just in time for World War II, two American guns shared a name and a critical role in victory: the M1 Garand rifle and the M1 carbine.
The Messerschmitt Hunters
US bombers were easy pretty for the German Messerschmitt—until Chuck Gumm and his fighter group showed up in their new P-51 Mustangs. By Robert F. Dorr
Eleanor Roosevelt, Foster Parent No. 200
Young Paulette Le Mescam was parentless and penniless after fleeing her home ahead of invading Germans. America's first lady came to her aid. By Gillian Mawson
Departments
Kilroy Was Here
A note from our publisher: "Farewell, Captain McHale"
Web Extra: Footage
Ernest Borgnine's War
The Oscar-winning star of the 1955 comedy film Marty and of the 1960s TV sitcom McHale's Navy remembers one day when he was a WWII navy gunner targeting enemy submarines with what turned out to be defective shells.
V-Mail
Letters from our readers
Home Front
Hitting the Beach
Pinup
Gene Tierney
Web Extra: Footage
Official trailer for Laura
Gene Tierney stars as the murder victim who becomes the object of obsession of the investigating detective in this 1944 film noir classic.
Flashbacks
Print ads from the war years
The Funnies
Novel Novels
I Was There
Liberating Dachau
Landings
The Biggest Warbird House
Web Extra: Link
Find information on the site and its collection, photos of exhibits, and a virtual tour of the facilities.
War Stories
Readers' memories of the war
Books and Media
Our take on the latest releases
Theater of War
Let There Be Light
Web Extra: Link
For decades, the government kept under wraps the 1946 film director John Ford made for the US government about WWII GIs suffering from what is now called post traumatic stress disorder. View the 2012 restoration of the film here, in its entirety.
78 RPM
Jimmy Durante
Web Extra: Footage
Inka Dinka Doo
Jimmy Durante performs his signature song with the Harry James orchestra in the 1944 comedy Two Girls and a Sailor.
WWII Events
A calendar of present-day happenings
GIs
Like His Grandfather