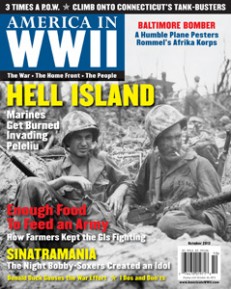 Order a copy of this issue
Features
BURNED ON HELL ISLAND
Taking Peleliu was supposed to be easy. Instead, marines had to take out dug-in Japanese, cluster by cluster, with bombs and flamethrowers. By Brian John Murphy
Web Extra: Footage
PELELIU FIGHTING CAUGHT ON FILM
The Department of Defense short documentary "Fury in the Pacific" features live combat footage to tell the story of the US military struggles for Peleliu and Angaur in the Palau Islands.


THE BIRTH OF SINATRAMANIA
One winter's night in 1942 a horde of screaming bobby-soxers turned young Frank Sinatra from a singer into an idol. By Tom Huntington
THE BALTIMORE BOMBER
The Germans might have taken North Africa if not for the Allied Desert Air Force and its forgotten warbird from Maryland. By Joe Razes
ENOUGH FOOD TO FEED AN ARMY
How US farmers kept GIs overseas and families at home fed and fighting. By Melissa Amateis Marsh
Web Extra: From Our Articles Archive
As farmers worked to produce enough food to supply soldier and civilian alike, Americans at home put food on their own tables by planting family and community Victory Gardens.

Departments
Kilroy
Notes from our publisher: "Red Kepis and Superforts"
V-Mail
Letters from Our Readers
Home Front
Wartime Marriages
Web Extra: From Our Articles Archive
Many GIs rushed to marry their sweethearts before they shipped out overseas. Many who didn't found love where landed and returned home with foreign wives. By Brenda Wilt
Pinup
Joan Leslie
THE FUNNIES
Donald Duck
Web Extra: Footage
Raspberries for Hitler
Ever the patriot, Disney's famous fowl braves a Nazi war factory to take a satiric jab at Adolf Hitler in the film short "Der Fuehrer's Face."


Landings
Connecticut's Tank Destroyer Museum
I Was There
"Three Times a POW"
War Stories
Memories from the War Years
Books and Media
Our latest reviews
Theater of War
None but the Brave
Web Extra: Footage
None but the Brave official trailer
Frank Sinatra directs his only film, starring none other than Frank Sinatra as one of a group of American GIs who strike a tense truce with Japanese soldiers stranded on an island with them.


78 RPM
Dick Haymes
Web Extra: Recording
"You'll Never Know"
Dick Haymes sings his biggest solo hit in 1943.


WWII Events
A Calendar of Present-Day Happenings
GIs
"A Lucky B-24 Gunner"